This post may contain affiliate links. If you buy thru these links, we may earn a commission at no additional cost to you.
---
A couple of days ago I posted an article about my solution for storing 8.5×11 inch cardstock.
In an effort to share some other ideas about how my work space is set up, I'm going to post a few articles that might give you some new ideas. In turn, I would love for you to share your ideas as well.
This idea helps me stay motivated – a board full of project ideas!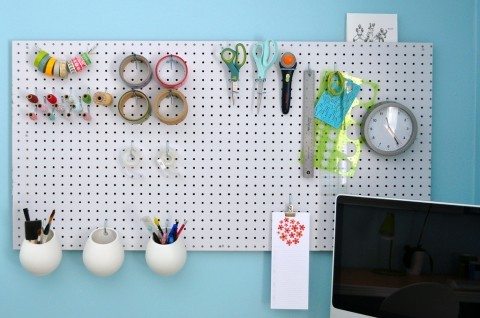 I have been to many classes and camps that I leave with small make-and-take projects. I hate to 'use' these items or give them away, in fear that I'll forget how to do it again.
So instead, I pin all of these projects and layouts on large boards that I can move around the room and lean up against my walls.
For the small little boxes, envelopes and tags, I can pull them down and take measurements… and recreate it again and again.
Again, I ask that you leave a comment sharing your ideas for functionality, saving space, etc. in your scrapping and stamping area. Chances are, it will help someone else find a solution to their workspace problems.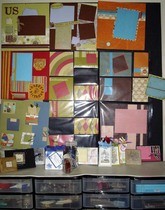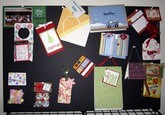 More Scrapbook Room Organization Tips

Trying To Re-Organize My Stamp Room

Country Living: Make Your Own Craft Room

Top 10 Resources For Organizing Your Craft Room
Slideshow Of 12 Amazing Craft Room Ideas

Craft Room Photos

Examples Of Craft Rooms

A Gazillion Photos Of Craft Rooms On Flickr

Stamp Room Organization Tips
Take A Tour Of My Stamp Room

Videos: Stamp Rooms
Cardmaking is my jam! I enjoy using rubber stamps and scrapbooking materials to make my own homemade cards. I use Stampin' Up products for a lot of my cards.