This post may contain affiliate links. If you buy thru these links, we may earn a commission at no additional cost to you.
---
Most of us who are into crafting of any kind have various rolls of ribbon that we use in our crafts.
Personally, I have a drawer that I keep all of my ribbon rolls in, but sometimes that can make it hard to find the roll I'm looking for with all of my ribbons loose in the same drawer.
If you're like me and you've got the same problem, then you've probably been looking for a ribbon organizer so you can put your ribbons in one place — once and for all — making it easy to find the ribbon you want for a project very quickly.

Here are some DIY ribbon organizers you can make yourself, plus one you can buy that I happen to like…
My Favorite Storebought Ribbon Organizer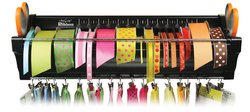 If you're not going to make your own, then you can choose from one of the many ribbon organizers that are available in craft stores and online.
One of the best ones that I've seen is the Clip It Up ribbon organizer.
Here's why I like it:
It's 11-5/8″W X 13-5/8″H X 4-3/8″D and there is a back zipper that opens.
There are trays that slide out for easy loading of your ribbon rolls.
Plus, there is room for a pair of scissors.
This ribbon organizer stores all common sizes of ribbons including scrapbookers ribbon rolls!
Here's a video that gives you a close-up look at all the unique features of the Clip It Up ribbon organizer:
---
There are a few more ideas for creative storebought ribbon organizers in this video:
---
My Favorite DIY Ribbon Organizers
#1 – Use a plastic tote with a lid.
You can usually find plastic boxes of all shapes and sizes at the dollar store quite cheaply.
The only other things you'll need are: a 3/8th inch dowel, a drill or nail driver, a small saw, a magic marker, and sandpaper.
Providing you have all these tools on hand, this plastic tote ribbon organizer can be a great money saver!
---
#2 – Repurpose a plastic container with holes into a DIY ribbon organizer.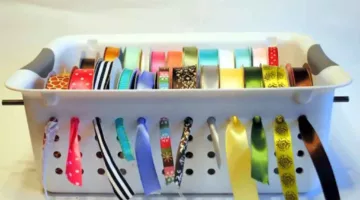 You can use dowels to align all of the spools of ribbon evenly within the container.
Then, just pull the tips of the ribbon through the holes, and wa-lah… the perfect DIY ribbon organizer!
By the way, there's also another version of this called the Ribbox that comes with a lid. Here's a video review of the Ribbox.
#3 – Convert a plastic storage container with drawers into a ribbon organizer:
#4 – Use a paper towel dispenser to organize your ribbons.
There are lots of different paper towel dispensers that are designed to sit on your counter.
They are weighted down at the base to hold them still while you unroll the paper towel roll to get a towel.
Since ribbon comes on rolls, you can do exactly the same thing with your ribbon rolls by simply stacking them one upon the other on the dowel.
All you have to do is find a place to store your papertowel ribbon organizer — like in a cupboard or on a table you use to do your crafts on.
#5 – Use an old hanger with a removable cardboard support for hanging pants.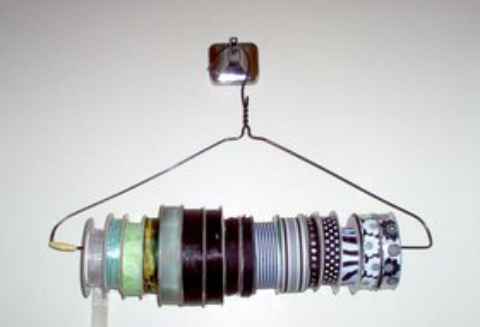 Instead of using an individual hanger, you could also turn an old pants hanger into a ribbon organizer.
This is especially great for your smaller spools of ribbon.
The more similar in size they are, the better they will hang.
A trouser pants hanger ribbon organizer enables you to group your ribbons by size, color, or season — and you can see them all in one glance!
#6 – Recycle an old shoe box or an empty oatmeal container.
Boxes such as these are quite plentiful in most peoples' homes, therefore, this may be the easiest solution to solve your ribbon storage right away.
The nice thing about shoebox ribbon organizers and oatmeal container ribbon organizers is you can easily stack them on your craft table or in a cupboard for ease of finding and using ribbons in a hurry.
Plus, you can decorate the outsides with pretty papers (wrapping paper, contact paper, scrapbook paper) so they'll add to your room's decor.
#7 – Make your own ribbon holder using wooden rods, shower rods, or even curtain rods.
Here are some detailed instructions for making a fancy version of this DIY ribbon organizer.
Plus tips for using tension rods and dowels.
#8 – Use a sugar jar — like the ones you see in restaurants — to organize ribbons.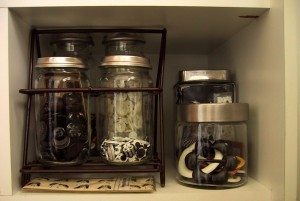 Sugar jars turn up at second-hand stores all the time. You might also find them at a restaurant supply store or online, as well.
One of the cool things about sugar jar ribbon organizers is that you can see when your ribbon rolls are running low.
All you do is take the lid off of a clean sugar jar and stack your ribbon rolls inside. Make sure that you grab the end of the ribbon though first.
You then thread the ends of all the ribbons up through the little hole in the top of the silver cap.
#9 – Use an old aluminum foil or plastic wrap box:
---
As you can probably tell, I'm a huge fan of doing it yourself — if you can — rather than buying pre-made anything.
While I like the idea of the storebought ribbon organizers, I don't like the idea of spending money on one (or 3!) that I might need to store all of my ribbons.
Making my own ribbon organizers appeals to my sense of frugality.
Whichever type of ribbon organizer you choose, having one of these at hand will definitely make doing craft projects much easier! Don't you agree?
Here's another collection of 25 unique DIY ribbon organizers.
Like this post? Save it to read again later… or share with others on Pinterest!
My favorite things to write about are topics that have to do with pregnancy, weddings, saving money, living green, and life with dogs. When I'm not writing, I love to spend time with my husband, read, create 3D artwork and Native American beadwork.