This post may contain affiliate links. If you buy thru these links, we may earn a commission at no additional cost to you.
---
This is a graduation card for my 5-year old nephew Joey, who is graduating from pre-school.
Obviously this card can be used for any type of graduation ceremony and for graduates of any age.
You can choose colors to match the school, the new college (for a high school grad), or maybe special colors of the graduation ceremony itself.
The base for this card, and all the decorations, were created using my Cricut Expression.
You can also make the star without using a Cricut machine.
If you aren't comfortable cutting out the star, go ahead and just trace it on the front. You can still add the graduation cap and other decorations to get the same effect.
One option for the cap is stickers.
There are lots of graduation stickers to choose from at any store that sells scrapbook materials (Michael's, Hobby Lobby, JoAnn Fabrics, Walmart, Meijer – even some grocery and office supply stores have a scrapbook aisle!)
Jolee's boutique is one brand that makes dimensional stickers.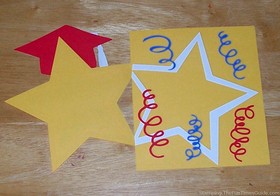 So your star might be drawn on your card with markers, and you can add a 3-D graduation cap (it will come with self-adhesive stickers). Other embellishments can be made with markers, confetti, glitter, or clip-art. You can mimic the designs on my card if you're not comfortable creating your own, or take a look at graduation cards in stores to get some ideas.
The envelope for this card is also handmade from a 12×12 page of cute pencils. 
Fun Tips If You Have A Cricut Machine
If you do have a Cricut machine, I used the Wild Card cartridge to make the star base as well as all other embellishments (except the letters, which were made using Plantin Schoolbook).
I did learn a neat trick about Wild Card, regarding the card and envelope sizes:
Cut your envelope first with the "fit to page" feature, so your envelope will be the largest it can be based on the size of your paper and cutting mat.

Watch to see what size it cuts the envelope (look quickly, it won't be displayed for very long!), then use that size to cut the matching card (disengage "fit to page"). That way, you are assured the card will fit in the envelope. 
For more ideas and tips for the Cricut, check out the Cricut Community Board. You can then choose to view messageboard, tips & tricks, or projects – all are filled with lots of cool ideas!
Where To Find Graduation Stickers Online
Here are some online options for purchasing graduation stickers, or to get some ideas:
Jolee's Boutique Stickers on Scrapbook.com
Scrapbooking Warehouse Jolee's Stickers
Jolee's Boutique Stickers at MyScrapbooking.com
I don't buy greeting cards or holiday cards anymore — I make my own! I also do some rubber stamping and scrapbooking. But mostly I enjoy creating handmade, one-of-a-kind cards. I've been an avid crafter for most of my adult life. My crafting addiction started with cross-stitching, then moved on to wearable art, projects with painted wood, fabric crafts, and then paper crafts — which has transformed primarily into card making. I also make the occasional wreath, snowglobe, and other holiday crafts.