It's almost my favorite holiday…. Halloween!
That means it's time for Halloween card ideas.
I am posting the first of several Halloween cards that I created using Stampin' Up products.
This one is pretty basic, although the punched-out letters are a bit tedious.
This card was created using the following:
Stampin' Up stamp sets: Trick or Treat, The Art of Life and Alphabits
Stampin' Up cardstock: Basic Black, Pumpkin Pie and Eggplant Envy
The letters were stamped on cardstock and then punched out. Have your tweezers ready – I lost a few of the punched-out letters when I tried to do this part by hand.
I also distressed and inked the paper with the pumpkin image, to make it stand out a bit from the rest of the card.
Obviously, I use mostly Stampin' Up products, but this look can be achieved using other products as well. If you're interested in Stampin' Up products, visit the Stampin' Up website to find a demonstrator in your area.
Have fun and Happy Halloween!
RELATED: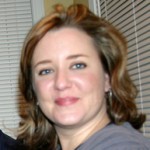 I live in Brentwood, Tennessee and write about fun things to see & do there. I also enjoy using rubber stamps and scrapbooking materials to make my own cards. I use Stampin' Up products for a lot of my handmade cards.
...