This post may contain affiliate links. If you buy thru these links, we may earn a commission at no additional cost to you.
---
This rainbow heart card inspired me to make my own version as a homemade Valentine's Day card.
I needed more than one card, so I decided to create 3 different versions of heart cards: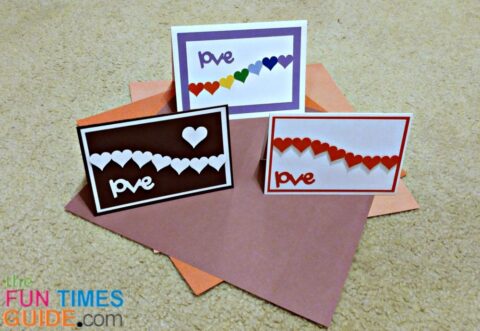 Here's how I made each of these 3 hearts cards, step-by-step…
#1 – Rainbow Hearts Card
I started with the rainbow hearts version.
I used my Cricut Expression to cut ¾" hearts from scraps of cardstock using the ROYGBIV colors (Plantin Schoolbook cartridge).
You could also cut hearts by hand, or with a punch, or use stickers.
Lightly draw a curved line and place the hearts on it — to see how wide your top panel of cardstock needs to be. (The white panel on my card is 3-1/2″ x 5-1/2".)
Place each heart on the line, touching the one next to it.
The hearts on the ends should be straight, while the others can be slightly angled to follow the line.
Each end heart can also very slightly overlap the top panel, to give the illusion that it flows onto the next card — which is 4-3/8″ x 6-3/8" purple rectangle (cut 2 of them) on my card.
The white card base is 5″x7" when folded.
I added a purple 1-inch word "love" from the Walk in My Garden cartridge.
Inside the card is a second purple panel.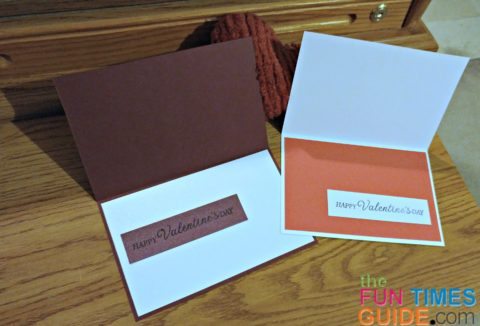 "Happy Valentine's Day" is the sentiment that I stamped on a 1" x 4" white card, using a Hero Arts Valentine stamp.
The sentiment card is the same size for all 3 hearts cards, using the colors of the card.
#2 – Red & White Hearts Card
For the next card, I decided to go with a slightly smaller card — in traditional red and white.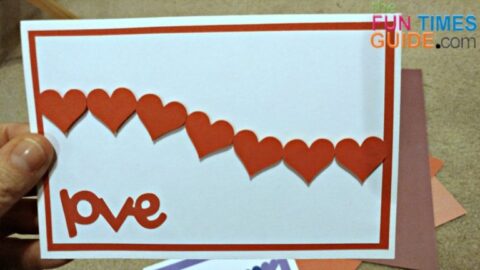 The hearts and "love" are the same sizes I used for the rainbow card mentioned above.
The top white panel is 3-1/2″ x 5-5/8". The red panel is 3-3/4″ x 5-7/8". And the white card base is 4" x 6-1/2".
The hearts are aligned the same as Card #1 — with the curved line heading the opposite way.
There is a second red panel on the inside — with the same sentiment as Card #1.
To add extra pop to the hearts, I added a 1/4" circle foam dot to each one.
The shadow under each heart adds subtle dimension to the front of this homemade Valentine card.
#3 – Shimmer Hearts Card
The final card is the fancy version.
The cardstock colors are purple and cream shimmer (a 12″x12" single sheet of each).
Each top panel is the same as Card #2. I added a bigger 1-inch heart to the front, and I used foam squares to cut small pieces for dimension on the "love" word.
The inside has a second cream panel and sentiment on purple shimmer paper.
Each card has a handmade envelope made from coordinating paper (as seen in the very first photo). Use any paper or envelope you have on hand that compliments the colors in your card.
Happy Valentine's Day card making!
More Handmade Valentine Cards With Hearts
In addition to the links I've included above, here are some other fun homemade Valentine cards that feature hearts of various shapes, colors, and sizes:
I don't buy greeting cards or holiday cards anymore — I make my own! I also do some rubber stamping and scrapbooking. But mostly I enjoy creating handmade, one-of-a-kind cards. I've been an avid crafter for most of my adult life. My crafting addiction started with cross-stitching, then moved on to wearable art, projects with painted wood, fabric crafts, and then paper crafts — which has transformed primarily into card making. I also make the occasional wreath, snowglobe, and other holiday crafts.