---
In writing about our personal experiences, we sometimes mention products & services that we use or recommend. This page may contain affiliate links for which we receive a commission.
With summer on its way out, and the cold weather (yes, even snow) just around the corner… I'm going to try & find some colorful flowers out & about this weekend.
I guess it's my last-ditch effort at holding onto summer.
My goal is to press a few of the flowers that I pick, then add them around a small photo collage — just a handful of photographs we took this summer.
It will be a fun way to preserve our summertime memories.
Here's how I press flowers…
When I'm out walking the dogs this weekend, I'll be on the lookout for the last few remaining flowers of summer.
I'll mostly be looking for tiny wildflowers in the neighborhood parks, fields, and even along the Natchez Trace.
(Pictures of the finished product coming soon…)
How To Press Flowers
Here's a list of the many different ways that you can press flowers.
Now, here's how I press flowers: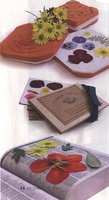 If I'm feeling very patient, I default to the old phonebook method. You know, stick a ton of individual flowers between random pages in the phone book. Then, flip through the book several days later trying to find all of the flowers that you put in there. The problem is… this method takes so darned long (2-3 weeks for best results). And by the time I remember that I stuck flowers in the phonebook, I've lost all of my creative energy for whatever it was that seemed like a fun thing to do with pressed flowers at the time.
When I'm in a big hurry, I use a "modified" wooden flower press to create pressed flowers. The official wooden flower presses that you buy in stores consist of perfectly-sized boards and perfectly-sized straps which result in perfectly-pressed flowers. But I just use whatever old wood scraps we happen to have out in the garage, and I'm satisfied with any slight imperfections that might result.For example, if I'm using two small pieces of plywood, I typically bind them together using cable ties (they make 'em fairly long these days). But with larger pieces of wood, I use bungee cords instead. Sometimes, I'll just put something heavy on top of the wood.

It usually takes 4-5 days to press flowers between two pieces of wood. Oh yeah, always put the flowers on some paper towels or other absorbent paper first.
TIP: Always make sure your flowers are completely dry before you press them. And, to accommodate thicker flowers that have raised centers, add fiberfill padding between boards.
I didn't even know there was such thing as a microwave flower press… Microwave presses give you immediate gratification — pressed flowers in a matter of seconds! I may have to check those out for next time.
Here's how to press flowers in the microwave yourself.
Which reminds me, I wrote about how you can get FREE trees & plants before — you just pay the small shipping fee. That's always been a popular article, and people have said they've had a good experience with the company.
Check it out… FREE flowers & trees!
I'm a lifelong scrapbooker who's been documenting every moment of my life in pictures… for decades! I currently have 171,285 photos saved in 6,034 albums online (backed up in 3 different locations). I switched from old-school photo corners and thick paper binders to archival quality tape and Creative Memories albums after college. To me, there is absolutely nothing better than preserving your life's memories in photographs… and scrapbooks! Then I added rubber stamping and cardmaking to my craft talents… followed by candle making, paper crafts, and other DIY projects. When I'm not crafting, you'll find me at the corner of Good News & Fun Times as publisher of The Fun Times Guide (32 fun & helpful websites).