---
We write about products and services that we use. This page may contain affiliate links for which we receive a commission.
Well, shoot, I missed my brother's 40th birthday. I mean I knew it was his birthday, I just forgot it was a BIG birthday. (Maybe you've figured out I'm the older sister, and the memory, well…)
So my original birthday card will be saved for next year. This year, I had to whip up a birthday card worthy of a 40th birthday.
I have been eyeing a cute little turtle from the Walk in My Garden cartridge for the Cricut Expression machine. I decided one of those s l o w m o v i n g little guys would convey my "sorry I'm late" message quite nicely.
I was looking through my paper selection to choose colors and inspiration struck: if one cute turtle says "I'm sorry", what would FORTY cute turtles say?!
I am the queen of paper scraps, so it was a lot of fun to create the little guys by mixing and matching papers and colors.
Once I cut enough turtle bodies and shells (1″), I tried to give each of the 39 turtles a unique personality.
Due to their small size I used a ZIG Memory System 2-way glue pen with a chisel tip. Then, I made a special 40th turtle at 3.5″ with the shadow feature.
The turtles would live on a tan card, 8.5″ x 11″, folded in half.
I wanted 39 little turtles marching towards the 40th turtle party. So they all had to be on the front of the card, to save the reveal of the larger 40th turtle for the inside.
So I packed them on there, mostly in order, with some whimsical banter going on among some of them. My favorite comments are from turtle #1 and turtle #7. Ha!
Marching along, marching along, then… ta da! "We all made it to 40!" complete with party streamers:
The small 'voice bubble' on the front ("Sorry it took us all so long") sticks out a little bit with the help of 2 Pop Dots on the back.
There are many kinds of pop dots and places to get them. On hand, I had ALL-NIGHT MEDIA Stamp Art Mini Pop Dots. The paper for the 40th turtle's shell was also used to the envelope (need a 12″x12″ piece).
This is an example why I always like to have 2 sheets of all my fun paper; so I always have extra for the envelopes!
So, I hope my brother appreciates the belated turtle conga line partying towards his special day!
This handmade birthday card was fun to make. Remember that 40 photocopied clip art or free-handed turtles would work just as well. Get the kids to help you color them.
You could even put fun party hats on the turtles. (Darn, I could have done that… I already have the hats!) Or, you could paint their toenails sparkly colors.
Whatever design you choose for a handmade belated birthday card or a birthday card for a major milestone birthday… just have fun with it!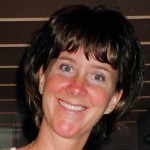 I don't buy greeting cards or holiday cards anymore — I make my own! I also do some rubber stamping and scrapbooking. But mostly I enjoy creating handmade, one-of-a-kind cards. I've been an avid crafter for most of my adult life. My crafting addiction started with cross-stitching, then moved on to wearable art, projects with painted wood, fabric crafts, and then paper crafts — which has transformed primarily into card making. I also make the occasional wreath, snowglobe, and other holiday crafts.