This post may contain affiliate links. If you buy thru these links, we may earn a commission at no additional cost to you.
---
If you're looking for cute sayings, witty quotes, or fun poems for your Scrapbook journaling — or for your handmade cards — then you've come to the right place!
I've been saving this list of my favorite Halloween sayings for years now. I add to it occasionally.
I'm sharing them here for other scrapbookers and cardmakers to use freely in Halloween projects.
Enjoy!
Fun Journaling & Halloween Card Sayings
A Big Boo To You
A Bootiful Night
A Ghost Of A Chance
A Ghost Town
A Hair Raising Experience
A Haunting We Will Go
A Little Batty
A Night Owl
A Patch-Side Debate Over The Perfect Specimen
A Scare In The Air
A Tribute To Halloween
A Very Goulish Idea
All Dressed Up
All Hallows' Eve
Arachnophobia – Fear Of Spiders
Are You A Good Witch Or A Bad Witch?
Are You Afraid Of The Dark?
Bats In The Belfry
Be Afraid, Be Very Afraid
Beauty And The Beast Lives Here
Best Witches
Beware The Time Is Here
Bewitched
Blood Donors Needed. See The Count
Bone Voyage
Boo Bash
Boo From The Crew
Boo To You!
Boo To You From Our Crew!
Boo Who?
Boo'tiful
Boo-tiful Halloween Night
Broom Parking – 5¢
Broom Rides – 25¢
Bubble, Bubble Toil And Trouble
Bugs And Hisses
Candyland
Carve Out Some Time For ___
Carving Out A Little Fun
Carving Out A Good Time
Carving Out The Memories
Carving Pumpkins
Cast A Spell
Caution: Black Cat Crossing
Caution: Zombie Crossing
Chamber of Horrors
Chills And Thrills
Come As You Aren't
Costumed Cutie
Costumes, Pumpkins, And Candy, Oh My!
Crazy Costumes
Creatures Of The Night
Creepy Crawly
Creepy Critters
Creepy Cuisine
Cute Little Spooks
Cutest Little Pumpkin(s) In The Patch
Deader Than A Door Nail
Deadly Intentions
Did You Know That Pumpkins Are A Fruit?
Don't Be A Scaredy Cat
Double, Double Toil And Trouble, Fire Burn And Cauldron Bubble
Dress Up
Eat, Drink, And Be Scary
Enter At Your Own Risk
Extreme Makeover
Fangtastic!
Fear Factor
Forget The Ghosts, Beware Of Me!
Found The Great Pumpkin
Frankly, Halloween Doesn't Scare Me
Freaky Friday
Free Broom Rides
Fright Night
Frightfully Delightful
Funny Bones
Get Dressed Up
Getting Into The "Spirit" Of Halloween
Ghost Crossing
Ghostbusters
Ghostly Greetings
Ghosts & Goblins
Ghosts Gather Here
Ghosts Have Real Spirit
Ghosts Of Halloween Past
Ghoulish Guests Welcome
Ghouls Just Want To Have Fun
Ghouls Rule
Goblin' It Up
Ghouls Night Out
Gone Haunting, Back at Midnight
Goose Bumps
Got Candy?
Got Treats?
Gruesome Twosome
Gutting It
Halloween Can Be Very Scary, You Never Know What You'll Get
Halloween Is A Real Treat
Halloween Is Brewing With Fun
Halloween Kids Are Such A Treat
Hang Around For A Spell
Happy Haunting
Happy Howl-O-Ween
Haunted House
Have A Spooky Day
Heads Will Roll
Her Magic Wand
Heroes And Villains
Hocus Pocus
How Do You Mend A Broken Jack-O-Lantern? With A Pumpkin Patch!
Howl-o-ween
Howling Parties
I Do Believe In Ghosts, I Do, I Do, I Do
I Put A Spell On You
I See Dead People
I Love My Mummy
I Want My Mummy
I Want To Drink Your Blood
If The Broom Fits… Fly It!
In Cold Blood
In Search Of The Perfect Pumpkin
Interview With A Vampire
It's A Spooktakular Party!
It's The Great Pumpkin, Charlie Brown
Jack-O-Lanterns Light The Night
Jeepers Creepers
Jekyll & Hyde Personality
Just A Spooky Little Greeting, To Wish You Happy Trick Or Treating
Just Hanging Out With My Ghoul Friends
Let's Go Out For A Bite…
Lil' Punkin
Lil Spooks
Little Critters
Look What's Brewin'
Makes My Skin Crawl
Master Of Disguise
Master of Scaremonies
Mischief And Mayhem
Mom's Little Pumpkin(s)
Mom's Little Monsters
Monster Mania
Monster Mash – It Was A Graveyard Smash
Monsters For Sale
Monsters Inc.
Monsters On Parade
Monstrous Evening
Mummy's Little Devil
Mummy's Little Monsters
My Halloween Costume
My Other Car Is A Broom
Night Crawlers
Night Of The Living Dead
No Tricks… Just Treats Here
October Fest
Off Having A Coffin Break
Oh, What A Tangled Web
Oktoberfest
On A Sugar High
One Scary Night
Our Lil Pumpkin
Party Animal
Pickin' Punkins
Please Come In For A Bite
Please Park All Brooms At The Door
Pumpkin Picassos
Pumpkins Come And Pumpkins Go, But A Jack-O-Lantern Steals The Show
Pumpkins For Sale
Pumpkins Galore
Pumpkins Without Fire Are Not Jack O' Lanterns
Punkin Patch
Ready, Set, Glow!
Red, White & Boo
R.I.P. Rest in Peace
Scare The Pants Off You
Scared Silly
Scared Stiff
Scaredy Cat
Shivers Up And Down Your Spine
Silly As A Scarecrow
Skeletons In The Closet
Sleepy Hollow
Something Wicked This Way Comes
Sometimes All You Need Is A Good Scare
Speak Of The Devil
Spell-Binding
Spider Cider
Spooktacular!
Stabbed In The Back
Step into the Graveyard
Stop For A Spell
Sweets For The Sweet
That's The Spirit
The Boo Crew
The Caped Crusader
The Devil's Voice Is Sweet To Hear
The Ghostest With The Mostest
The Horrors of Halloween
The Inside Scoop
The Main Event
The Pick Of The Patch
The Pumpkin Patch
The Terror Zone
The Witching Hour
There's Mischief Brewing
There's No Such Thing As Too Much Candy
These Are The Gh'oul Times
Things That Go Bump In The Night
Too Cute To Spook
Tools Of The Trade
Trick Or Treat
Trick Or Treat, Smell My Feet, Give Me Something Good To Eat
Tricks And Treats
Under The Knife
Under The Sheets
Very Spirited
Walking Dead
Watch And Learn
We All Scream For Halloween
We Witch You A Happy Halloween
We're Going Trick Or Treating And We'll Shout A Scary Greeting
What A Night… What A Fright
Where There Is No Imagination, There Is No Horror
Which Witch?
Who Said "BOO?"
Wild Thing
Witch For Hire
Witch Hunt
Witch Parking, All Others Will Be Toad
Witches And Goblins And Ghosts, Oh My!
Witching Hour
Witchy Woman
Without A Doubt, The Most Recognizable Symbol Of Halloween Is A Pumpkin Carved Into A Jack-O-Lantern
You Are Bootiful
You Give Me The Creeps
Yum, Yum, Gimme Some
Halloween Poems
RIP: Our Pumpkin Burial Ritual – A Simple Eulogy
We are gathered here to pay homage to our dearly departed Jack O' Lanterns.
Throughout their short lives, our Halloween pumpkins have brought both us and our Trick-or-Treaters much joy.
We now consign them to the earth where they first came.
May they rest in peace.
Just A Jack-O-Lantern
I made a little jack-o-lantern for Halloween night.
He has three crooked teeth, but he won't bite.
He has two round eyes, but he cannot see,
He's just a jack-o-lantern
Happy as can be.
Chanting For Treats
There's a fright in the night, a scare in the air.
Witches and goblins are out everywhere.
Young children in costumes run through the streets,
Ringing each doorbell and chanting for treats.
The Best Jack-O-Lantern
A round little pumpkin
Lay in the sun
It grew and grew
Into a big, big one.
It grew and grew
And became on Halloween
The best jack-o-lantern
You've ever seen.
A Pumpkin's Smile
Round is my head,
Bright are my eyes,
Pie shaped my nose,
And a mouth oversized,
Up on the fence post
I can be seen
Smiling at children
On Halloween
More Halloween Words & Phrases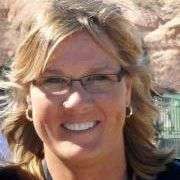 I'm a lifelong scrapbooker who's been documenting every moment of my life in pictures… for decades! I currently have 171,285 photos saved in 6,034 albums online (backed up in 3 different locations). I switched from old-school photo corners and thick paper binders to archival quality tape and Creative Memories albums after college. To me, there is absolutely nothing better than preserving your life's memories in photographs… and scrapbooks! Then I added rubber stamping and cardmaking to my craft talents… followed by candle making, paper crafts, and other DIY projects. When I'm not crafting, you'll find me at the corner of Good News & Fun Times as publisher of The Fun Times Guide (32 fun & helpful websites).