This post may contain affiliate links. If you buy thru these links, we may earn a commission at no additional cost to you.
---
As with any holiday, you already know that I don't just use these types of "fun phrases" as headlines for my scrapbook layouts.
I also use them as:
photo captions

section headers or sub-heads to break up the page (or a multi-page layout)

random blurbs tossed haphazardly on the page to fill empty spaces
The following page toppers and titles are the ones I review whenever I'm creating Valentine's Day pages or pages about LOVE…
A Big Wet Kiss
A Celebration Of Love
A Heart Full Of Memories
A Hunka Hunka Mornin' Love
A Life Filled With Love Must Have Some Thorns, But A Life Empty Of Love Will Have No Roses
A Love/Hate Relationship
A Love Story
A Piece of My Heart (use puzzle-shaped hearts)
A Whole Lot Of Love For A Little Person
Ace Of Hearts (with playing cards)
Addicted To Love
All's Fair In Love And War
All Things Grow With Love
All You Need Is Love???
Butterfly Kisses
Careful… Your Love Is Showing
Dazzle 'Em With Diamonds
Did I Shave My Legs For This?
Distance/Absence Makes The Heart Grow Fonder
Don't Give Up On Love
Dying Of A Broken Heart
Eat Your Heart Out
Even In The Best Of Times, Love Hurts
Every Day I Fall More In Love With You
Faith, Hope … And Love
Fall In Love Again?… Naaaaaah
"Falling" In Love
Falling In Love Again
Falling In Love Is Awfully Simple. Falling Out Of Love Is Simply Awful.
First Kiss
For The First Time In My Life…True Love!
Forget Me Not
Friendship… Sealed With A Kiss
From the Heart
Have A Heart
Have I Told You Lately That I Love You?
He Loves Me…He Loves Me Not…He Loves Me…He Loves Me Not… HE LOVES ME!
He's Got A Really Big Heart
Heart Attack
Heartbreak Hotel
Heart Breaker
"Heart"ening News
Heartthrob!
How Deep Is Your Love?
How Do I Love Thee? … Let Me Count The Ways
How Sweet It Is To Be Loved By You
Hugs and Kisses!
Hugs And Kisses, Stars For Wishes
I Am Loved
I Hope You Live To Be A Hundred, I Want To Live To Be A Hundred Minus One Day So I Never Have To Live Without You
I Just Called To Say "I Love You"
I Like It Best Just Like This
I Love You A Bushel And A Peck And A Hug Around The Neck
I Love You With All My Heart
I Need A Lover That Won't Drive Me Crazy
I Think I'll Never Fall In Love Again
I TOAD You That I Loved You
I'll Love You Forever, I'll Like You For Always
I'm Carryin' My Love With Me  
I've Been Bitten By The Love Bug
I've Learned That There Are People Who Love You Dearly But Just Don't Know How To Show It
If Love Is Blind, Why Is Lingerie So Darned Popular?
If This Ain't Love, I Don't Know What Is
If You Want To Know If He Loves You So… It's In His Kiss
–Cher
In The End The Love You Gave Is Equal To The Love You Made
–The Beatles
It Is Better To Have Loved And Lost, Than Never To Have Loved At All
It Is Well Documented That A Broken Heart Is Far More Painful Than Squeezing Lemon Juice Over A Deep Paper Cut
Jack Of Hearts
Just Because
King Of Hearts
Kiss Me You Fool
Kissable Kids
Lip Smackers
Live Well, Laugh Often, Love Much
Loads Of Love (dump trucks, wheelbarrows)
Lookin' For Love In All The Wrong Places
Lost In Love
Love & Other Obsessions
Love Bugs And Crazy Dayzies
Love Can Build A Bridge
Love Conquers All
Love Fills The Smallest Moment With A World Of Happiness
Love Hurts
Love In The Afternoon
LOVE Is A 4-letter Word
Love Is A Flower. You've Got To Let Grow
-John Lennon
Love Is A Friendship Set To Music
Love Is A Gift Tied With Heartstrings
Love Is A Work Of The Heart
Love Is Blind
Love Is In The Air
Love Is Patient. Love Is Kind. Love Is Often Hard To Find.
Love Is The Irresistible Desire To Be Desired Irresistibly
Love Is The Secret Ingredient In The Recipe Of Life
Love Is The Thread That Ties Us All Together
Love Makes The World Go 'Round
Love Me Tender
Love One Another
Love Puts A Twinkle In Your Eye And A Smile In Your Heart (use stars and hearts)
Love Story
Love The One You're With
Love Thy Neighbor
Love Will Find A Way
Love Ya!
Love's In Bloom
Lovable, Huggable, Squeezable, Unbelievable
Luv Bugz
Matters of the Heart
Mixing Love And Work Is A Job In Itself
My Achy Breaky Heart
My Heart Belongs To __
My Heart Leaps For You! (frog and heart stickers)
No 3 Words Have Greater Power Than 'I Love You'
Places In The Heart
Put Your Heart Into It
Puttin' My Heart On The Line
Queen Of Hearts
Recipe For Love: (list pertinent things)
Respect Is Love In Plain Clothes
Sealed With A Kiss (for all those kissy shots)
She Thinks She's In Love. She Thinks She's In Spain. She Isn't In Love, She's Merely Insane.
Signed, Sealed, Delivered, I'm Yours
Some Kind Of Wonderful
Straight From The Heart
Sweet 16 And Never Been Kissed
Sweet Nothings
Sweetest Hearts
Take Time To Love The Little Things
The All-American Love Story
The Best Side Of Love
The Best And Most Beautiful Things In The World Cannot Be Seen Or Even Touched, They Must Be Felt With The Heart
–Helen Keller
The Best Way To Keep Love Is To Give It Wings
The Deepest Love Is Always The Craziest
The Eyes Of Love
The Heart Already Knows What The Mind Can Only Dream Of… Trust Your Heart
The Honeymoon Stage
The Key To My Heart
The Long Kiss Goodnight
The One Kiss That A Guy Remembers Most Is The One He Never Got
The Only Kisses I'm Getting Come From A Bag Of Hershey's Chocolates
The Power Of Love
The Sky's The Limit When Your Heart Is In It
The True Measure Of Love… Is To Love Without Measure
The Way To a Man's Heart…
There's A Smile In My Heart That I've Waited My Whole Life For
There's A Whole Lotta Love In Here
They Don't Call It The HEARTland For Nothin'
This Is Dedicated To The One I Love
To Love And Be Loved Is To Feel The Sun From Both Sides
Tough Love
Thoughts Of Love
Through The Eyes Of Love
To Love Is To Receive A Gl
impse Of Heaven
Today I Started Loving You Again
Tough Love
Truly, Madly, Deeply
Two Hearts Become One
Unlucky At ____, Lucky In Love
Unlucky At Love
We Fell In Love All Over Again
We're Bound To Each Other… Not Just By Love/Blood, But By Friendship Too
Wearing Her Heart On Her Sleeve
What A Sweetheart (use wavy ruler down the side with candy stickers scattered about the wave)
What I Did For Love
When A Man Loves A Woman
When I Fell In Love With Him All Over Again
When You're In Love, It Shows
When Your Heart Is Broken, You See The Cracks In Everything
When Someone You Love Becomes A Memory, The Memory Becomes A Treasure
Where There Is Love There Is Life
With Every Beat Of My Heart
XOXOXOXOX
You Always Hurt The Ones You Love
You Are Some Kind Of Wonderful
You Can't See The Angels, You Can't See The Air, You Can't See My Love For You, But It Is Everywhere!
You Decorated My Life
You Fill Our Days With Hugs And Kisses
You Hold The Key To My Heart
You Only Hurt The One You Love
You're In My Heart
You're The Best Break This Old Heart Ever Had
You've Lost That Lovin' Feeling
Your Cheatin' Heart
Your Love Is So Bright, I Gotta Wear Shades 
Sometimes, I get great inspiration from song tiles. Here are some Love Songs For Valentine's Day that would also make great titles for scrapbook pages!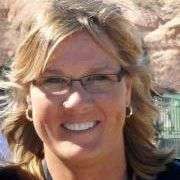 I'm a lifelong scrapbooker who's been documenting every moment of my life in pictures… for decades! I currently have 171,285 photos saved in 6,034 albums online (backed up in 3 different locations). I switched from old-school photo corners and thick paper binders to archival quality tape and Creative Memories albums after college. To me, there is absolutely nothing better than preserving your life's memories in photographs… and scrapbooks! Then I added rubber stamping and cardmaking to my craft talents… followed by candle making, paper crafts, and other DIY projects. When I'm not crafting, you'll find me at the corner of Good News & Fun Times as publisher of The Fun Times Guide (32 fun & helpful websites).