This post may contain affiliate links. If you buy thru these links, we may earn a commission at no additional cost to you.
---
I remember these lace 'doily' hearts from when I was a kid.
We were always doing little craft projects growing up, and I suddenly realized what a great (cheap) embellishment this could be for Valentine cards, gifts and scrapbook pages.
I got a pack of 24 for $2.00… you just can't beat that.
These can be found just about anywhere.
(I picked up mine in the Valentine treat section of the grocery store.)
They are also a good idea for kids' crafts.
These lace hearts can be stamped on, cut out, written on, used as a gift tag, etc.
At 8 cents each, it's no big deal if you 'mess one up'.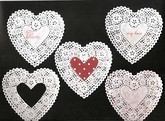 More ideas for using lace in scrapbooks…
Glitter Lace Scrapbook Page
How To Make Scallop Paper Lace For Scrapbooks
How To Make Faux Lace For Scrapbook Pages
Using Ribbons, Lace & Hemp In Scrapbooks
Cardmaking is my jam! I enjoy using rubber stamps and scrapbooking materials to make my own homemade cards. I use Stampin' Up products for a lot of my cards.