This post may contain affiliate links. If you buy thru these links, we may earn a commission at no additional cost to you.
---
This card was for a colleague who is leaving for a new job.
I have now been recruited to make a card for every event in my office!
I started this handmade farewell card with a 5-inch flower cut from my Cricut Expression using the Walking in my Garden cartridge.
I also used the "shadow" feature to get the dark blue background.
The yellow center is another cut feature.
I cut the ladybug from the same cartridge at 1-inch, and the letters are 1-inch from the Plantin Schoolbook cartridge.
I used my black, fine point Sharpie pen to make the imperfect dashes and dots around the border of the flower — just to add a little dimension.
Background Paper Choices
Once I have an idea for a card, I explore several color options for paper for the card base, background and envelope.
Here, you can see some of my choices.
Four ways to use a 5-inch flower:
It was easy to quickly eliminate the white, and I knew I wanted to add a red ladybug, so the red was out too. I really could have used any of the other papers.
I chose the dark green for the card base, and the light green as a background for the front.
It's hard to see in this picture, but there is a subtle circular pattern that compliments the flower. I also had enough of that color to make the envelope.
It all comes down to what I think looks good.  You can judge for yourself if you think I made the right choice! Use your own judgment for your cards — just choose something you would like to receive.
How I Designed The Inside Of The Card
The inside of the card had a yellow background, and a butterfly from Cricut Walking in my Garden (about 2 inches).
For the flight pattern dashes of the butterfly, I used a pencil to draw the path, then I used the Sharpie pen to add my sentiment.
This is a technique I use frequently, because it's easy and much more fun than just words in the middle of the card.
The pencil marks are easy to erase once the ink has dried, and Sharpie is good for not smearing.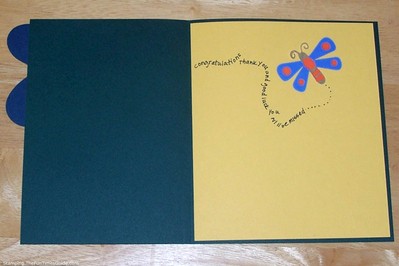 Because the card was going to be signed by about 20 people, I knew that some would be writing on the dark green paper, where it would be hard to read. I have a gold and a silver Pentel metallic ink pens, and I planned to send it around with the card for everyone to sign with.
The back of the card had another personal touch — one that I try to add to all my cards. I use the Cricut or handcut a small emblem (1/2-inch) that matches the card.  Then I use the Sharpie to write my name and the year. I also have a couple of rubber stamps that say "handmade by" that I can use to sign my cards.
Farewell, Michelle!
UDPATE: Variations Of This Flower Card
I used the same format for a handmade Birthday card, as well as a Mother's Day card…
I don't buy greeting cards or holiday cards anymore — I make my own! I also do some rubber stamping and scrapbooking. But mostly I enjoy creating handmade, one-of-a-kind cards. I've been an avid crafter for most of my adult life. My crafting addiction started with cross-stitching, then moved on to wearable art, projects with painted wood, fabric crafts, and then paper crafts — which has transformed primarily into card making. I also make the occasional wreath, snowglobe, and other holiday crafts.