This post may contain affiliate links. If you buy thru these links, we may earn a commission at no additional cost to you.
---
This was a birthday card for work, so it needed to be big enough for many people to sign. 
The Cardstock
I have a supply of 8-1/2"x11" card stock sheets in assorted colors that always form the base of my cards.
You can find individual sheets or packs of assorted and single colors in both 8-1/2"x11" or 12"x12".
Watch for sales to create your own supply, then you can purchase single sheets for specific colors or themes, as you need them. 
I'm a big fan of cards with matching envelopes, so I started this card with: 
a red piece of 8-1/2 x 11 cardstock
 
a yellow piece of 8-1/2 x 11 cardstock
 
2 sheets of 12×12 striped paper
Non-cardstock paper is not thick enough to be the base of a card, but it is great for creating a theme or adding color.
Fold the red paper in half and voila! A perfect card.
The Shapes & Letters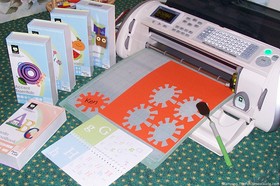 The ice cream cones (both inside, and on the cover of this Birthday card) and letters were cut with my Cricut Expression machine using the following cartridges:
The Cricut is a lot of fun and very easy to use, but while you're saving and shopping for one, there are many other options. 
Letters could be stenciled, cut from magazines, hand-written, stickers, computer-generated, etc.
You could also use stickers, stamped images, coloring book pages, clip art, photos — anything really!
Adhering The Sprinkles
The inside page has a yellow sheet of cardstock cut to fit just inside the borders.
I used Tombo Mono permanent adhesive double tape on a roller to adhere everything — except the sprinkles!
A light spray of Elmers Craft Bond spray adhesive on top of the "ice cream" creates a lightly tacky surface — perfect for scattered sprinkles.
The 2nd sheet of striped paper makes a perfect coordinated envelope. It's easy to make and directions will be available on this site soon.
I don't buy greeting cards or holiday cards anymore — I make my own! I also do some rubber stamping and scrapbooking. But mostly I enjoy creating handmade, one-of-a-kind cards. I've been an avid crafter for most of my adult life. My crafting addiction started with cross-stitching, then moved on to wearable art, projects with painted wood, fabric crafts, and then paper crafts — which has transformed primarily into card making. I also make the occasional wreath, snowglobe, and other holiday crafts.