This post may contain affiliate links. If you buy thru these links, we may earn a commission at no additional cost to you.
---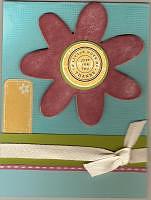 If you're a scrapbooker, you've probably used chipboard to embellish your projects.
If you're like me, however, you have a drawer full of chipboard pieces and have absolutely no idea what to do with them.
Here are a few things to help give you some ideas…
First off, I want to admit that I have used patterned paper to cover chipboard.  That is about all I could come up with.
I know that painting chipboard pieces with acrylic paint would also be another way to use them, but seriously – who has time to wait for paint to dry?
Chipboard can also be expensive.  Because of that, a good friend of mine is constantly 'on the hunt' for ridgid cardboard that can be used for making her own chipboard pieces.  The thick board that comes on the back of a pack of cardstock is her favorite, and it's free (if you're buying the paper anyways).
If you're not a great freehand artist, look around for things in the house that can be used for drawing out your design – a drink coaster or bottom of a cup for a circle (use a shot glass for smaller circles). A great idea for things like a Christmas tree shape would be a cheap cookie cutter.
Use a sharp craft knife to cut out the design or a die cut machine if you have access to one.
These videos will show you more fun ways to use chipboard in your scrapbook projects:
Scrapbook.TV - How to Cover Chipboard with Patterned Paper
Scrapbook Tutorial: Chipboard Gate Fold Album
More Scrapbook Chipboard Ideas
Cardmaking is my jam! I enjoy using rubber stamps and scrapbooking materials to make my own homemade cards. I use Stampin' Up products for a lot of my cards.