This post may contain affiliate links. If you buy thru these links, we may earn a commission at no additional cost to you.
---
I am determined to use my scrap papers in more of my cards this year.
This card is an easy example that can be used for any type of card just by changing the punch.
I used the largest piece of scrap paper for the base of each card.
The cream card is 6″ x 4-1/4″ when folded and the purple is 7-1/4″ x 4-1/4″.
See how I made both of these Valentine cards using only a heart punch, alphabet stamps, and leftover paper scraps…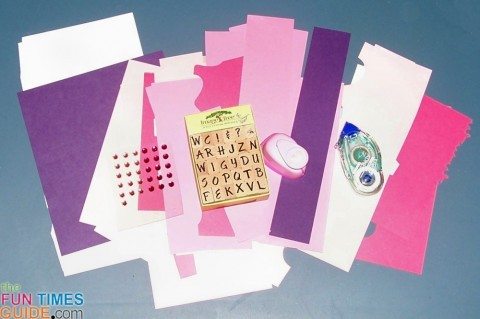 Instructions For The Cream Valentine Card
I used a heart punch to cut hearts from pink paper scraps.  (Mine is the extra-small heart by The Paper Studio.)
To make sure all the hearts are punched evenly and straight along the bottom edge of the paper, I pushed the paper all the way in the punch. Using my paper trimmer, I then cut each piece into a 4″ x 3/4″ strip.
To start lining up the punched paper strips, I used a pencil to lightly mark the center of the cream card, moving out from there. I tried to be careful with the placement of each strip, by eyeballing each one carefully.
With some glues you can place a piece and wiggle it around to fix the placement, but I used my permanent Tombo double sided tape to adhere everything on these cards, and once it has been placed it is stuck there.
This punch is great, because it has a trap on the bottom to catch the the punched out pieces. They can be used to embellish your cards or to make confetti. I placed mine randomly on the inside, then used a Sharpie fine-point marker to write "Be Mine".
These hearts are the same size as the candy conversation hearts, and you could write sentiments to match the candies. These would be cute on the inside of the card or to make a separate card. Maybe even to make a card that looks like the candy box! (Hmm, now that would be really cute!)
Instructions For The Purple Valentine Card
For the purple card, I added some cream strips to the pink. These strips are also 4″ long and vary from 3/4″ to 1 1/4″ wide.
On the inside, I added a pink rectangle.
For the sentiment, I used EK Success Image Tree alphabet stamps and red ink. (Mine is called Ink Dot, purchased from a Michael's dollar bin, but you can use any kind.)
If you don't have a lot of experience with rubber stamps like this, I suggest some practice first. It's also good to stamp onto a separate piece of paper that you then cut out and adhere to your card. Be careful to clean the background of the stamp, so you don't get a red rectangle around the letters.
I purposely stamped my letters so they would be uneven, because it was difficult to place them exactly where I wanted them. I then added a few of the punched hearts.
DIY Envelopes & More…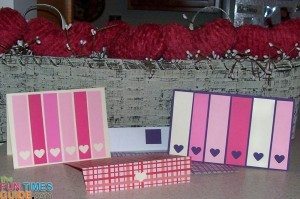 To make the envelopes, I found coordinating 12″ x 12″ paper from my DCWV Paper Stack 5 and folded envelopes using this method. I made the flap big enough to accommodate the heart punch and placed a scrap of colored paper under it so it would show the heart when the envelope was sealed.
Adapting this card to other holidays and life events would be as easy as using a different punch: snowflake, flower, baby feet, cupcake, star, etc.
I hope you enjoy making this card and sharing it with your Valentine sweetie!
Other Valentine Card Ideas
I don't buy greeting cards or holiday cards anymore — I make my own! I also do some rubber stamping and scrapbooking. But mostly I enjoy creating handmade, one-of-a-kind cards. I've been an avid crafter for most of my adult life. My crafting addiction started with cross-stitching, then moved on to wearable art, projects with painted wood, fabric crafts, and then paper crafts — which has transformed primarily into card making. I also make the occasional wreath, snowglobe, and other holiday crafts.