This post may contain affiliate links. If you buy thru these links, we may earn a commission at no additional cost to you.
---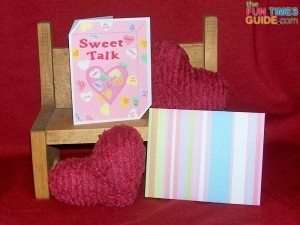 The punched out hearts from this Valentine card I made earlier reminded me of conversation candy hearts and inspired this Valentine candy box card.
I used the extra small heart punch by The Paper Studio. It creates hearts very close to the size of the actual Sweethearts candies.
Using this picture of the Sweethearts candy box as a guide, I made my very own box of candy hearts for the cover of this handmade Valentine card!
How To Make The Candy Box
I wanted the candy box to appear 3-dimensional, instead of just the flat front of the box, so I started with a big piece of pink paper.
I drew a rectangle that is 4-1/2″ tall and 3-1/4″ wide for the box front. Then I drew a straight line 1/2″ from the top and right sides.
To make sure the angled corners of the box all matched, I used a ruler to draw a line from point A to B. Holding the ruler at the same angle, I drew the top left and bottom right box corners. I used a pencil to make the box lines very pale, but you can still see them.
How To Make The Candy Hearts
My paper hearts are the same colors as the actual candy hearts: white, yellow, pink, orange, purple and green.
I had to add some dark pink hearts, because I forgot the color of my box and punched a bunch of light pink hearts.
The real candy hearts have red imprinted letters, so I used a fine-point red gel pen to write all my words on the paper hearts. This took some practice, because the hearts are very small (about 1/2″). I used the point of my craft tweezers to hold the paper down as I wrote.
I had not decided which lucky friend would be the recipient of this Valentine card, so I used generic sentiments:
"Sweet Talk"
"Love"
"Be Mine"
"Hug Me"
"You & Me"
"Honey"
"Dream"
"Kiss Me"
"Sweet"
"Angel"
"Let's Kiss"
If I make one of these Valentine cards for my 7-year-old nephew, I'll use cooler phrases like:
"You rock"
"Cool dude"
"Chill out"
You could easily customize the phrases to perfectly match a special friendship, or use phrases that are secret inside jokes between you and your special guy.
How To Make The See-Thru Box Front
The dark pink center heart for my paper candy box is based on the one from the real candy box.
I "free cut" a purposely non-symmetrical heart with a little swoopy curve at the bottom. The heart is a bout 2″x2-1/2″. I then cut a smaller version of the heart from vellum paper, which was my attempt at the clear plastic heart on the candy box that is the window providing a peek at the candies inside.
I had a more complicated version of this in my head, where I would have little paper hearts shaking about inside a vellum window, on the box front. Um, no! The way I really did it gives the illusion of the window and is much easier.
I used double-sided tape on the top side of the hearts (with the words facing up) to place them under the vellum. I was completely random, just making sure some hearts were face down while several sentiments were facing up. I let the hearts hang over the edge of the vellum heart. When I was done placing hearts, I trimmed the extra parts off so they would appear to be "inside" the vellum window. Then I taped the vellum heart to the dark pink heart.
The words "Sweet Talk" were cut using my Cricut. I used the Plantin Schoolbook cartridge, Roly Poly style, 1/2″. I layered red paper over the dark pink paper, using my favorite tweezers and glue pen to place the letters.
Must read:  How To Know Which Craft Glue To Use When
The white paper base of the card is 8″ x 5-1/4″. It was easy to make 2 corner cuts so the whole card looks like a real box of candy.
Other Details About This Fun Valentine Card
As you can see, I randomly placed hearts all about, purposely allowing some of them to be blank-side up.
Rather than have hearts wrap around the side of the box (which would have been challenging, because of the way the box angles), I cut each heart flat when it reached a box edge.
I used 3 paper hearts for the inside sentiment ("I hope… you will… be mine"), placed on a dark pink paper (1-1/2″ x 2-1/4″), which I then centered on red paper (1/4″ wider all around).
The paper for my envelope came from my DCWV Paper Stack 5 and has all the same colors as my card. I made it using these DIY envelope instructions.
Happy Valentine's Day. (And remember, these candy hearts have NO calories!)
More Conversation Hearts & Handmade Valentine Cards
I don't buy greeting cards or holiday cards anymore — I make my own! I also do some rubber stamping and scrapbooking. But mostly I enjoy creating handmade, one-of-a-kind cards. I've been an avid crafter for most of my adult life. My crafting addiction started with cross-stitching, then moved on to wearable art, projects with painted wood, fabric crafts, and then paper crafts — which has transformed primarily into card making. I also make the occasional wreath, snowglobe, and other holiday crafts.