This post may contain affiliate links. If you buy thru these links, we may earn a commission at no additional cost to you.
---
Recipe scrapbook pages are some of the more fun pages to create in my opinion.
I have several recipes that have been handed down from my mother, grandmother and great-grandmother that I've made scrapbook pages for. And doing so really stirred my creative juices!
Following are some great tips for making your own recipe scrapbook pages…
#1 Cut card stock into pieces measuring 6 inches by 6 inches and then attach recipe cards with printed recipes to those mats. This is a nice way to "frame" your favorite recipes. Then you can put them on your scrapbook pages wherever you would like.

#2 Make colorful pockets for your recipe cards on your scrapbook page. This makes it easy to extract and use your favorite heirloom recipes.

#3  Write out your recipes on decorative tags and then attach them to your scrapbook pages.

#4  Consider also adding a shopping list for your recipes somewhere on your scrapbook page. If you go the pocket route, you can write the shopping list on the back of your recipe cards.

#5  Add a photo of the person the recipe came from, and then a bit of journaling telling of any memories of this family member. These finishing touches will enhance the most cherished recipes.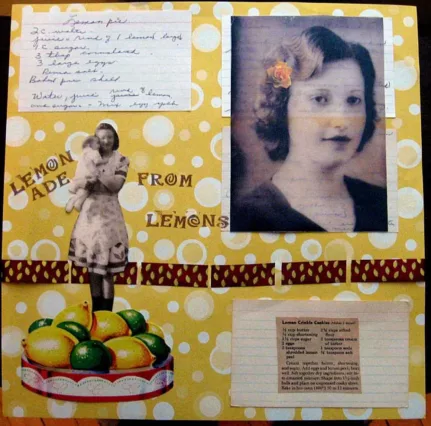 #6  Include a measurement and conversion table to your scrapbook when it's done. The back or front page of a scrapbook devoted solely to recipes are both good places to do this.

#7  Consider making more than one volume when it comes to recipe scrapbooks. If you have several recipes from one family member, then you might even consider doing one scrapbook for just those recipes.

#8  Be sure to choose a scrapbook that is expandable so you can add pages as you get new recipes from friends and family members.
---
Well, those are just a few ideas for making recipe scrapbook pages. The really cool thing about recipe scrapbooks is you can make more than one and give them to family members, your children or anyone else who would enjoy a fun collection of recipes. Recipe scrapbooks make great gifts!
---
My favorite things to write about are topics that have to do with pregnancy, weddings, saving money, living green, and life with dogs. When I'm not writing, I love to spend time with my husband, read, create 3D artwork and Native American beadwork.