This post may contain affiliate links. If you buy thru these links, we may earn a commission at no additional cost to you.
---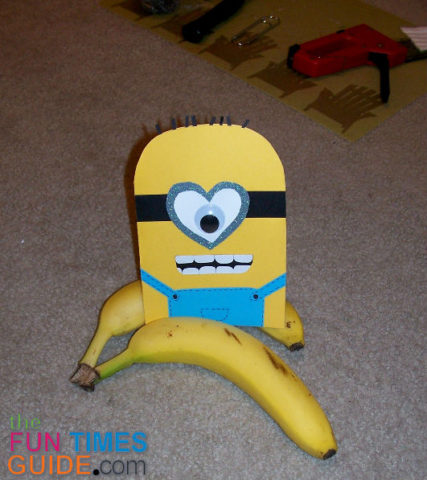 My nephew loves minions, so I decided to make him a minion card for Valentine's Day.
Instead of using my Cricut, I designed and cut all the pieces free hand.
One great thing about minions is they are imperfect and unique, so I knew anything that looks less-than-perfect on my card would only add to the minion's charm!
How To Make Minion Cards
First, the head…
I started with minion-gold cardstock paper — an 8.5″ x 11″ piece folded in half.
I used a bone folder to smooth out the crease.
Then, I used a pencil to draw the shape of the minion's head (which I think looks like a Twinkie!).
Cutting both layers of cardstock at the same time created a fun "shape" card. Again, minions aren't perfect so don't worry if the curved head isn't even or smooth. After cutting, my card turned out to be 4.5″ x 6″.
Now for the minion overalls…
Using scraps of sky blue cardstock, I cut a rectangle 3″ x 1.5″ and rounded the top 2 corners for the bib piece. I used my Tombow double-sided tape to center it on the bottom of the card.
Next, I cut strips of blue paper about 1″ long and .25″ wide for the straps — again rounding 2 of the corners. The rounded corners were placed on the top bib corners and slanted off to cover the "shoulders".
Finally I created the pocket, shaped as a half-circle. I used a black Sharpie marker to draw tiny stitch marks along all of the "denim' edges, as well as 2 buttons for the straps.
Next, the eye…
Minions have 1 or 2 eyes covered by silver goggles with a black strap.
For Valentine's Day, I changed the circle shape on the goggles to a heart!
I used a 1″ googley eye, so the heart surrounding it is about 2.5″.
To cut the heart, I used the old grade school method of folding paper in half and cutting half a heart, so when the paper is opened it will be a whole heart. But I didn't want a fold mark on the goggles, so I used scrap paper to get my heart the right size first. Then, I traced it on the back of the dark silver glitter paper.
To cut out the inner heart, I used small sharp scissors to poke a hole in the center and then carefully cut the shape.
I added a white heart background and then attached the googley eye. The black band is 3/4′, and I attached the eye piece about 2″ from the top.
Followed by the mouth…
For the mouth, I wanted to include the cute little white teeth, so I made an open smile.
I drew a smile on black paper, added the teeth, and then cut the smile. This cut off some of the teeth — which makes it look like an actual mouth.
The teeth are about 1/2″ by 1/4″, cut like little chiclets. The mouth is 2.5″ x .75″.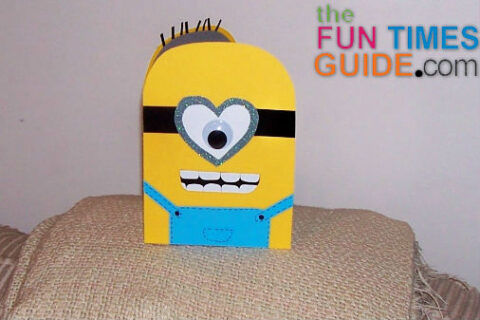 And lastly, the hair…
The hair is made from 8 little snips of paper attached randomly across the top of the inside of the card.
Then I cut and attached a piece of gray card stock as an inside panel.
For the sentiment, I cut a silver glitter heart and used a red marker to write I 'heart' U more than BANANAS! (…because minions love bananas).
Using a green marker, I crossed out "more than" and changed it to "almost as much as".
Changed it again to "the same as", and finally to "A LOT". Minions really like their bananas!
Have fun sharing Valentine's love with the little minions in your life!
Other Homemade Minion Cards
I don't buy greeting cards or holiday cards anymore — I make my own! I also do some rubber stamping and scrapbooking. But mostly I enjoy creating handmade, one-of-a-kind cards. I've been an avid crafter for most of my adult life. My crafting addiction started with cross-stitching, then moved on to wearable art, projects with painted wood, fabric crafts, and then paper crafts — which has transformed primarily into card making. I also make the occasional wreath, snowglobe, and other holiday crafts.