This post may contain affiliate links. If you buy thru these links, we may earn a commission at no additional cost to you.
---
Have you already started working on your Christmas scrapbook pages?
If you're anything like me, you start "researching" and collecting all the memorabilia early, but the pages themselves don't actually get finished until weeks — if not months — after the holiday. Right?
Sometimes, the best motivation for a scrapbook page layout for me is something as simple as a page title. That alone, can lead to ideas which start running through my mind: "Ooh! I need to take pictures of this!" or "Oh, I need to remember to do that on Christmas Day." You get the idea.
The page toppers and titles that follow are the ones I review whenever I'm creating Christmas pages…
Keep in mind, I don't just use these types of "fun phrases" as headlines for my scrapbook layouts.
I also use them as:
photo captions

section headers or sub-heads to break up the page (or a multi-page layout)

random blurbs tossed haphazardly on the page to fill empty spaces
Christmas Page Titles & Phrases

A December To Remember… And A Yappy New Year! (for a dog layout)
A Jolly Holiday
A Season With A Precious Reason
A Picture-Perfect Christmas
A Totally Tubular Christmas
All Hearts Come Home For Christmas
All I Want For Christmas Is …
All I Want For Christmas Is Toys, Toys, Toys!
All Wrapped Up
Be Naughty, Save Santa The Trip!
Bells & Whistles
Big Things Come In Small Packages
Bow-Wow-Wows Of Holly
Candy Cane Kid(s)
Charlie Brown Christmas Tree
Christmas CAT-astrophe
Christmas Cuties
Christmas Is A "Claus" For Celebraton!
Dear Santa:
Dear Santa, I WANT IT ALL!
Deck The Halls
Decorate & Celebrate!
Desperately Seeking Santa Claus
Enjoying The Holly Days
Every Day Is A Gift
Every Day's A Holiday
Family And Friends Are The True Gifts Of Christmas
Family Is The Best Part Of Christmas
Flying North For The Winter
Getting Into The Holiday Spirit(s)
Gifts Are Wonderful And Fun To Get, But The Things That Really Matter In Life Are Often Free
Have A Holly Jolly Christmas
Have Yourself A Merry Little Christmas
Here Comes Santa Claus
Holiday (or Christmas) Traffic
Holiday Expressions
Holidazed (or Hollydazed)
Home For The Holidays
How The Grinch Stole Christmas
I Believe In Santa Paws
I Do Believe In Santa Clause
I Saw Mommy Kissin' Santa Claus
I Still Believe
I'll Be ___ For Christmas
I'll Be Home For Christmas
It Was A Storybook Christmas
It's All In How You Package It
It's All In The Packaging
It's Beginning To Look A Lot Like Christmas
It's Beginning To Smell A Lot Like Christmas (for a food layout)
Jingle All The Way
Jingle Bells
Jolly Holidays
Let It Snow! Let It Snow! Let It Snow!
Let's Meet Under The Mistletoe
Making The Holidays Memorable
Meet Me Under The Mistletoe
Meowy Christmas
Merry Christmas To All, And To All A Good Night!
Merry Christmazzzzzzz (making the z's successively smaller) And To All, A Good Night
Merry Kissmas!
Mistletoe Magic
Naughty? Or Nice?
Never Worry About The Size Of Your Christmas Tree. In The Eye Of A Child, They Are All 30 Feet Tall
No Humbugs Allowed
No Peekin'
O Christmas Tree
Oh Come All Ye Faithful…Joyful And Triumphant
Oh "Holy" Night
Oh, Joy!
Once Upon A Starry Night
Olive, The Other Reindeer
On Santa's Lap
Our First Christmas Together: The Best Gift Is Each Other
Our Little Stocking Stuffer
Santa, PLEASE STOP HERE
Santa Claus Is Coming To Town
Santa Claus Stops Here
Santa Sightings
Santa's Elf
Santa's Little Helper
Santa's Workshop (parents putting together toys)
Silent Night
Some Very Special Christmas Ornaments:
Spreading Christmas Cheer
Swim, Hike, Fish, Bike, Putt, Surf, Soar, Bask, Sail, Shop, Ski, Row, Ride, Eat, Drink, And Be Merry!
The Children's Eyes On Christmas Night Could Light The Town Wwith Sparkling Light
The Sights & Sounds Of Christmas (for pix of lights and trees, etc.)
The Three Wise Men
There's No Place Like Home For The Holidays
This Is As Jolly As It Gets
Tis The Season To Be ___
'Tis The Season To Be Jolly
Twas The Night Before Christmas (parents trying to put together toys)
Twas The Nightmare Before Christmas
(I or We) Undecked The Halls
Warm Holiday Fun
Warm Wishes For A Loving, Caring, And Sharing Christmas For All!
We Believe In Santa Claus
Were You Naughty Or Nice?
What Goes Up Must Come Down (taking down decorations)
Whatever Makes You Merry
White Christmas
Who Needs Santa?…I Have Visa
Wrap Yourself In The Warmth Of The Season
Wrapped With Care
Wrappin' It All Up
Wrappin' Up A Merry Christmas
Wrapping Up The Holidays
Yes, (Name), There Really Is A Santa Claus
You Better Not Pout
You Light Up My Life (for Christmas lights)
Yule Love ___ (fill in the blank)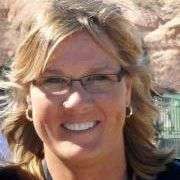 I'm a lifelong scrapbooker who's been documenting every moment of my life in pictures… for decades! I currently have 171,285 photos saved in 6,034 albums online (backed up in 3 different locations). I switched from old-school photo corners and thick paper binders to archival quality tape and Creative Memories albums after college. To me, there is absolutely nothing better than preserving your life's memories in photographs… and scrapbooks! Then I added rubber stamping and cardmaking to my craft talents… followed by candle making, paper crafts, and other DIY projects. When I'm not crafting, you'll find me at the corner of Good News & Fun Times as publisher of The Fun Times Guide (32 fun & helpful websites).