This post may contain affiliate links. If you buy thru these links, we may earn a commission at no additional cost to you.
---
Some scrapbookers find journaling one of the hardest parts about scrapbooking — whether it's finding a snappy title for the page or writing up a description for the event that's depicted in a photo.
But journaling adds so much to the value of the scrapbook page that it shouldn't be overlooked.
Must read: All My Best Scrapbook Journaling Tips
Here are some easy ways to find creative words and phrases for your scrapbook page titles and photo captions.
Start An Idea Notebook
Experienced scrapbookers collect bits of useful text, just like stamp collectors collect stamps.
One of your best tools for documenting all of your ideas is a simple notebook and pen where you can jot down ideas as they come to you — no matter where you are.
TIP: Later, I transfer all of the ideas I've collected into a freebie computer program — organized by keyword, category, or tag. But that part is optional. More on that in a minute.
Keep your Scrapbook Idea Notebook with you when you have to spend some time waiting — such as during a visit to the doctor, when you're taking a coffee break at work, when you're stopped in traffic during your commute, you get the idea.
Keep your eyes and ears open — at all times — because you never know when something's going to "click" with a page that you'll be creating in your scrapbook! Often a snippet of an overheard conversation or a sign in a window will give you a great idea for a scrapbook page title or a whimsical phrase to use in a photo description.
Places To Find Creative Phrases & Ideas
Any materials that pass through your hands — like magazines, newsletters, brochures, newspapers — should be viewed as scrapbook resources. Whether they're your own, or you're browsing through items available to you in a waiting room or at a friend's house… you should always flip through them with a scrapbooker's eye — in search of catchy titles and fun ways to say things.
When you're on the Internet, look up quotation sites. If you can't think of anything to say yourself, chances are that someone has already said it — and better than you can anyway. So take advantage of that.
An obvious place to find great journaling phrases online is scrapbooking websites. Whether you're viewing the page layouts of others, or browsing stickers and embellishments for a variety of page themes, at the same time, you should also be surfing for scrapbook-worthy sayings.
Don't overlook your favorite songs and poems — sometimes songs say it best! A special song lyric can not only give you a ready-made title for a page, but also a whole theme for a scrapbook layout. For example, the songs of John Lennon, Bob Dylan, and Madonna are fruitful grounds for gathering ideas. How about a page on your childhood titled This Used To Be My Playground? The lyrics are from Madonna's movie A League of Their Own, but the nostalgic quality can apply to anyone's life.
How To Organize All Your Journaling Ideas
The secret to your journaling success lies in your ability to organize all of the ideas you've picked up here & there and saved for future reference. That way, when you need a related phrase or title, you know where to find it… fast!
Step One is to jot down (or copy & save on the computer) any quotes or titles that appeal to you… as you find them! Even if you don't have a scrapbook page in mind for them just yet, save 'em. A collection of page themes and journaling ideas goes a long way toward simplifying the process later. Any ideas that you find when you're out & about should be jotted in your Idea Notebook. For those found online, you'll want to copy and save them in a basic word processing document or a simple program that will organize all of your scrapbooking ideas. (Still more on that in a second.)
Step Two is to transfer all those ideas in your Idea Notebook over to a computer program or word processing document. This way, they're saved forever! And, best of all… you can do a quick "search" on your computer to find words & phrases that fit your layout in a jiffy. Plus, you can group words & phrases together by theme, category, tag, label, or whatever. The way I do this is by using a freebie program called AZZ Cardfile. It's a no-frills data organizer that has a million and one different uses — from recipes to health tips to passwords to scrapbook titles. I've used this program religiously for years. All of my journaling & page layout ideas are organized by theme: baby, Spring, pets, fireman, beach & water… you get the idea. (If a particular phrase fits with more than one "theme", then I just copy & paste it — so it appears under each theme. (UPDATE: I recently moved everything I had in AZZ Cardfile over to Google Drive — because I've started keeping everything important there — whether it's scrapbook related or not. It's also a great way to organize recipes.)
Hate Your Handwriting?
If you think your handwriting isn't up to par, don't worry about it. Do your best, or print the information. No one really cares how it "looks" — the words are what people appreciate the most.
As you know, the personal touch in scrapbooking is what's important, and your handwriting is as much a part of you as how you place the embellishments and what papers you choose, so you should try to use your own handwriting whenever possible.
But if this particular scrapbook album is for a special occasion (like a wedding), you can always print out the journaling from your computer, choosing a suitable font and paper (such as script font on vellum paper).
Easiest Journaling Tip
Trust me, even if you're not a writer by nature and don't have a way with words, you can still do a decent job of journaling on your scrapbook pages with this simple tip.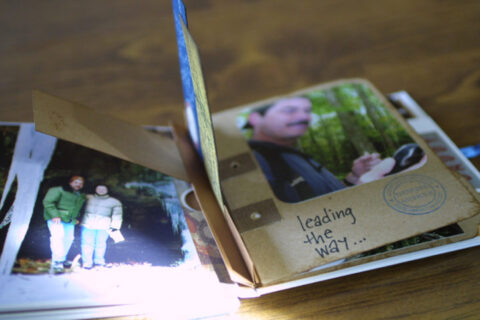 How? Simply answer these 5 questions — in every photo caption you write.
Take the time to jot down:
Who?
What?
Where?
When?
Why?
In sum, you want to make sure that your journaling includes the identities of the people in the pictures, what was happening at the time, the setting, the date of the event, and why it is important to you.
These are the very same questions future generations will be asking, the same questions you ask when you come across an unidentified old photograph, and the same questions you would ask if you were looking at someone else's scrapbook.
Whenever possible, try to choose words that will give life to your page and convey the emotion depicted in the photographs. (That's kind of an "advanced" scrapbook journaling move. It's not a requirement; just a bonus.)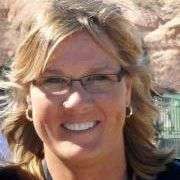 I'm a lifelong scrapbooker who's been documenting every moment of my life in pictures… for decades! I currently have 171,285 photos saved in 6,034 albums online (backed up in 3 different locations). I switched from old-school photo corners and thick paper binders to archival quality tape and Creative Memories albums after college. To me, there is absolutely nothing better than preserving your life's memories in photographs… and scrapbooks! Then I added rubber stamping and cardmaking to my craft talents… followed by candle making, paper crafts, and other DIY projects. When I'm not crafting, you'll find me at the corner of Good News & Fun Times as publisher of The Fun Times Guide (32 fun & helpful websites).