This post may contain affiliate links. If you buy thru these links, we may earn a commission at no additional cost to you.
---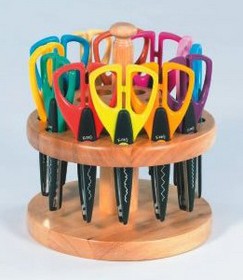 I received a set of 18 Kraft Edgers scissors as a gift, and they are easily my favorite edging scissors!
I love to use them to add unique touches to my handmade cards and other projects.
Kraft Edgers are great for the following reasons: 
They can cut through all kinds of paper — including thicker cardstock and thin plastics.
 
They come in a very nice wooden stand-alone holder (although it is easier for me to store mine in a drawer).
 
They are made of a durable plastic (except for the cutting edges).
 
Each scissor is clearly marked with the pattern name and an example of the cut.
The Kraft Edgers craft scissors can be used to cut straight edges or curves — you use them just as you would regular scissors.
It does take a little practice to cut a long length, because you need to carefully line the scissor up for the next cut (if you want the line to be neat and consistent).
Sometimes it looks better to just cut away with no regard for matching patterns. It can be tricky to cut a straight line when you want to maintain the pattern with each cut, so I like to actually draw a line to cut along. You can draw it lightly either on the front or on the back, depending on your project, and then erase it once you've made your cut.
Another great thing about many of these patterns is they can look different if you simply turn the scissors over in your hand. The yellow and blue examples of postal and jigsaw demonstrate this – look closely at the rounded part of each cut. On the left one in each set, the rounded part faces out, making the square look like a postage stamp. The right side example has the rounded parts facing in, creating an entirely different look. 
One thing that can be a challenge with Kraft Edgers (and other brands of craft scissors as well) is the final cut. This is hard to describe, and I couldn't get my photo to zoom helpfully, but… if you make a cut and push the scissor handles all the way together, the very end of the cutting edge causes a little paper tear.
If you plan to line up the pattern and make another cut on top of tear, I've learned the tear will usually not be noticed. After some practice, I am now able to NOT cut to the very end and avoid the tear altogether.
Well, I hope you will soon have the chance to have fun with your own set of Kraft Edgers scissors!
I don't buy greeting cards or holiday cards anymore — I make my own! I also do some rubber stamping and scrapbooking. But mostly I enjoy creating handmade, one-of-a-kind cards. I've been an avid crafter for most of my adult life. My crafting addiction started with cross-stitching, then moved on to wearable art, projects with painted wood, fabric crafts, and then paper crafts — which has transformed primarily into card making. I also make the occasional wreath, snowglobe, and other holiday crafts.