This post may contain affiliate links. If you buy thru these links, we may earn a commission at no additional cost to you.
---
Wondering about the craft glues that I use?
After trying many different products, I have been pretty loyal to my favorite types of glue for my craft projects.
I do mostly paper crafts, but I will address a couple of multipurpose adhesives that I like to use as well.
Tombow MONO Permanent Adhesive
For paper pieces 1/2" or bigger, the Tombow MONO Permanent Adhesive double-sided tape dispenser is my favorite.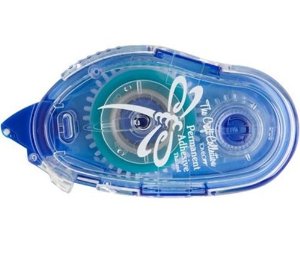 I tried several different brands of double-sided tape before finding this one, and this emerged as the best for several reasons:
Consistent and smooth tape delivery. Rolling the tape along is easy, and the tape rarely breaks. I can count on it to have solid coverage, as opposed to other brands that have splotchy coverage, or the tape turns stringy.
Easy to place. The dispenser delivers tape right from the end, versus other brands that have a tiny plastic "lead in" area, which makes exact placement difficult, especially when working with small pieces.
Refillable. After purchasing the initial dispenser, which comes with tape, it is very easy to remove the roll of tape when it's finished. A new roll pops right in and you are back in business. Refills are available in single packs, 3-packs, or 6-packs. I can usually find them at Hobby Lobby or Michaels and use a coupon.
Has a removable tape option. The adhesive on the removable double-sided tape is similar to the adhesive on a post-it note and the rolls will fit in the same dispenser.
Mistake proof. The width of the tape is 1/3", and sometimes that is too wide for my project. I can remove the part I don't want by rubbing it with my fingers, and it rolls right off (must do this right after applying the tape).
Tombow actually makes a lot of handy craft adhesives, but the one I go to most is the Tombow Double-Sided Permanent Adhesive.
Sakura Quickie Glue Pen
For smaller areas, I love the Sakura Quickie Glue Pen.
It is the best glue pen — by far — that I have tried.
Here's why:
Most glue pens work for a short time and then clog up. The Quickie Pens are the best for working all the way to the end.
The precision tip allows me to get the glue right where I want it. It goes on blue and dries clear.
If the items are really small, I hold them with my craft tweezers and apply the glue to it, then use the tweezers to place it — as I've demonstrated here.
Elmer's Dual Tip Glue Pen
When a project requires wet glue, I like to use the Elmer's Craftbond Clear Dual Tip Glue Pen.
The reason?
While the pen tip is not precise like the Sakura Quickie Glue Pen (above), and the glue tends to ooze out even before I squeeze the tube, I like to use the Elmer's Dual Tip Glue Pen when I need a dollop of glue for something.
Here's one example of a time when the Elmer's Dual-Tip Glue Pen came in handy:
I used it to attach the little snow guy's carrot nose!
Zig Glue Pen
The Zig 2-Way Glue Pen is a wet glue that comes in many sizes of dispensers — from a fine tip pen style to a wide chisel tip.
To activate the glue, you push down on the tip until the blue glue appears.
I like this glue pen because:
Using the tip of the pen, you can place the glue precisely where you want it.
It does not dry instantly, which gives you few moments for adjusting your project before it dries. This is not possible with the Tombow glue (above), so if I need to have an exact placement I will use the Zig Two-Way Glue Pen instead.
Elmer's Extra Strength Glue Stick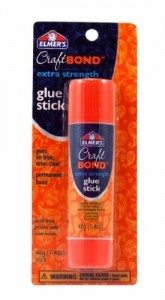 When I make cards and matching envelopes, I need a way to seal the envelope.
I usually reach for the Elmer's Craftbond Extra Strength Glue Stick whenever I'm making envelopes.
It's actually a bit stronger than the Tombow Adhesive Tape (above), and I want the envelope to be totally secure as it goes through the mail. I know it tears the envelope a little bit when opened, but to me that's a fair trade for security.
By the way, I've tried the All-Purpose Elmer's Glue Stick and I do not care for it at all on my craft projects. Compared to the Elmer's Extra Strong Glue Stick, it doesn't even seem like glue!
Glitter Glue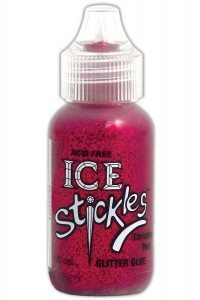 Not only is Glitter Glue a fun way to add some sparkle to a project, but it's also actually glue!
While it's similar to using regular glue and dry glitter, it's much easier to control when it comes from one bottle.
Glitter Glue comes in lots of fun colors and from many different brands. One of my favorites is Stickles Glitter Glue by Ranger.
Some tips for using Glitter Glue:
Glitter Glue will dry the same color as you see in the bottle — sometimes a bit darker or lighter. If that matters for your project, be sure to test it ahead of time.
As an accent, drag the Glitter Glue on your project where you want it and let it dry, or use it to make an outline.
Be careful to frequently shake the Glitter Glue towards the tip — to avoid air bubbles that will cause the paint to spurt out. If that happens, quickly scrape it up with a piece of cardboard and you should be able to remove most of it. Some Glitter Glue will leave a dark spot where the glue was; perhaps you can camouflage this part of your project.

You can also spread Glitter Glue with a paint brush to achieve a lightly glittered background.
Elmer's Multi-Purpose Spray Adhesive
The Elmer's Craft Bond Multi-Purpose Spray Adhesive is great for large surfaces — like when I wanted to adhere a piece of 12″x12″ felt to some cardboard.
Using liquid glue would have been bumpy and would not have covered the surface as completely. The Elmer's spray glue adheres smoothly and evenly.
After I sprayed the cardboard, I placed the felt and rubbed my hands over the entire surface to smooth it out.
Now I can cut the felt into any shape I want and it will remain securely attached to the cardboard.
The Elmer's Multi-Purpose Spray Adhesive is great for many surfaces, but I wouldn't use it for heavy items.
Beacon 527 Multi-Use Glue
This stuff will bond anything!
I have specifically used it for wood and metal combinations.
Some helpful tips for using Beacon 527 Multi-Use Glue:
You do have to hold the 2 items together, but it bonds fairly quickly.
It dries clear, but not invisible, so try not to use any more glue than you need.
The nozzle is not very precise on this tube, so you might want to pour some on a piece of paper and use a toothpick or Qtip to place it on your project.
In fact, the nozzle tends to drip quite readily, so be careful when you unscrew the top and be ready for this to happen.
There's also a free Beacon Adhesives Glue Guide online that's worth looking at if you're going to use this glue.
Hot Glue Gun
Some craft projects will just not work using regular glue. It's during those times that a Hot Glue Gun is needed.
One example is this mesh wreath snowman: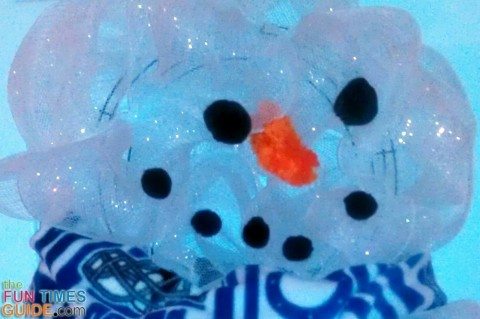 I tried several glues for the pom pom features, but the only glue that would work was the hot glue.
There are many different sizes and types of Hot Glue Guns. Here's how to choose the best hot glue gun for your craft projects.
I don't use this type of glue very often, so I just have a cheap mini Hot Glue Gun from the dollar store. It suits my needs perfectly.
Glue Dots
There are 2 kinds of dot adhesives – Glue Dots and Pop Dots.
Glue Dots that come on a roll are flat. They can be used just as a double-sided tape adhesive from the same kind of dispenser. Glue Dots dispense the same way: you pull them along your surface, leaving circles of glue instead of a strip of tape. Glue Dots are flat and similar in consistency to that glue that adheres your credit card to the package when you receive it in the mail. (Uglu is a good example of a similar type of glue.) Glue Dots can also come on a sheet. You pull each one off individually, before placing it onto your project. Glue Dots come in lots of different sizes. Here's a tutorial on how to make glue dots yourself.
Personally, I prefer to use double-sided tape for secure overall coverage, but some crafters like to use the Glue Dots instead.
Pop Dots are similar to Glue Dots, but they are mostly used to add dimension to your project — because they are actually small pieces of foam with adhesive on both sides. Available in different sizes and shapes (usually round or square), they come on a sheet and you poke them out one at a time to use them in your project. First, peel the backing off a Pop Dot, then and attach that side of the dot to your base surface and finally, peel off the front and attach the second piece. Pop Dots are good to use when you want to add another layer to your project — such as letters or shapes on the front of a card.
Here, I've used Pop Dots to secure googley eyes to one of my handmade cards:
Tips For Choosing & Using Craft Glues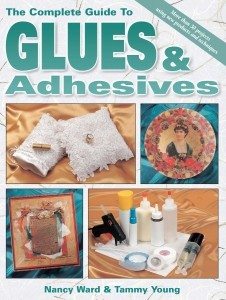 The Complete Guide To Glues And Adhesives (…a super helpful book for crafters mostly)
Why You Should Use Acid-Free Products With Paper Crafts (…and a few more great acid-free tips too)
The Best Craft Adhesives & Sealants (…tons of great tips in the comments too!)
Michael's Glue Guide: Which Glue To Use When (…they have a simple online tool as well)
The Crafter's Glue Guide (…unique features that differentiate the many types of craft glues)
Recipes For DIY Glues & Adhesives On Pinterest (…for the ultimate DIYer who wants to save money by making your own glue!)
The Ultimate Craft Glue Guide (…which glues crafters should use and when)
Building Your Craft Toolbox: Adhesives 101 (…modern glues for the modern crafter)
The Scoop On Recycling Glue Sticks (…thanks to the Elmer's Glue Crew!)
Glue Dots Adhesive Guide (…shows which type of glue dots to use on which type of surface)
Household Glue Guides For Homeowners
Now, let's think beyond the craft table for a minute.
The following Glue Guides are great for homeowners and crafters alike because they cover every possible scenario in which you could possibly need to use glue:
I don't buy greeting cards or holiday cards anymore — I make my own! I also do some rubber stamping and scrapbooking. But mostly I enjoy creating handmade, one-of-a-kind cards. I've been an avid crafter for most of my adult life. My crafting addiction started with cross-stitching, then moved on to wearable art, projects with painted wood, fabric crafts, and then paper crafts — which has transformed primarily into card making. I also make the occasional wreath, snowglobe, and other holiday crafts.