This post may contain affiliate links. If you buy thru these links, we may earn a commission at no additional cost to you.
---
Flower your mother with love by making this colorful MOM card for Mother's Day!
This card was inspired by this great package of flowers: Color Me Crazy by Petaloo.
There are 80 flowers in the package, in 2 sizes: 1/2″ and 1″.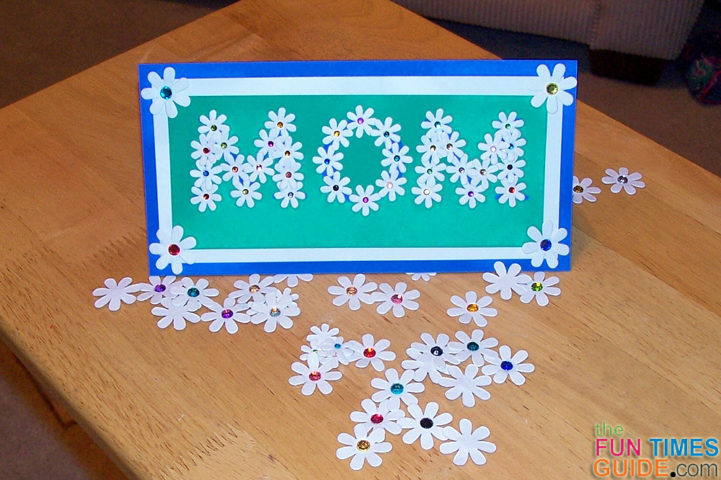 The flowers all have white petals and a variety of colored jewel centers.
When I bought them, I thought they had adhesive on them — like stickers — but they don't. So you will need to use your own adhesive, like I did.
How To Make This Card
To start the card, I made a base from blue cardstock: 8.5″ wide and 4.25″ tall (9″ folded in half).
On the front, I put a white rectangle: 8″ across and 3.5″ tall.
Next is a green rectangle: 7.5″ across and 3″ tall. I put one of the larger flowers in each of the 4 corners.
I cut 2″ MOM letters with my Cricut Expression using the Plantin Schoolbook cartridge (no special feature, just the regular letters).
Using my Making Memories tweezers and small pieces of double-sided tape from my Tombow tape runner, I attached the small flowers to cover the letters. If you use liquid glue, be sure to place the smallest amount possible onto the center of the back of the flower, to avoid any glue running over.
Must read:  How To Know Which Craft Glue To Use When
I tried to cover as much of the MOM letters as I could, without overcrowding the flowers. If you look closely, you'll notice that I used blue cardstock to cut my letters. I recommend using green — the same color as the top rectangle — so they will disappear into the background and not stand out at all.
For the inside, I put another white rectangle: 8″ across and 3.5″ tall.
I used green cardstock to cut a 5″ Happy Mother's Day from the Wild Card cartridge.
To make the envelope, I found a 12″ x 12″ piece of paper from my stash that has blues and greens in it, and used this DIY envelope technique.
Have fun making this simple, flowerful Mother's Day card for someone special in your life!
More Tips & Ideas To Make A Mothers Day Card
I don't buy greeting cards or holiday cards anymore — I make my own! I also do some rubber stamping and scrapbooking. But mostly I enjoy creating handmade, one-of-a-kind cards. I've been an avid crafter for most of my adult life. My crafting addiction started with cross-stitching, then moved on to wearable art, projects with painted wood, fabric crafts, and then paper crafts — which has transformed primarily into card making. I also make the occasional wreath, snowglobe, and other holiday crafts.