This post may contain affiliate links. If you buy thru these links, we may earn a commission at no additional cost to you.
---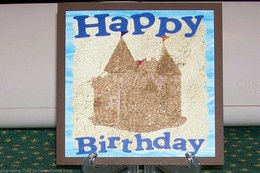 This birthday card is for a lucky friend spending the summer with her family at the beach in North Carolina.
I've had this sand castle dimensional form for awhile, waiting for the perfect card!
It's by Jolee's By You, which is available at most places selling scrapbook supplies and stickers.
(I got mine at Michael's.)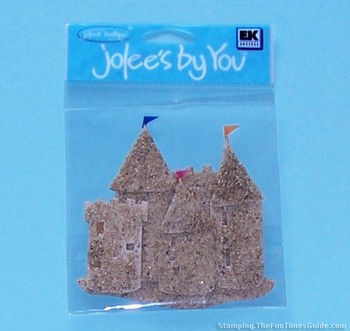 Here's how I put this sand castle to good use to make a beach-themed card with a castle…
Materials Used For A Sand Castle Card
The card base is 6″x12″ brown cardstock, folded in half.
I once did a beach scene bulletin board at work, using 12″x12″ sheets of sky, water, and sand. Fortunately, all the sheets survived once I carefully pulled out the staples and I was able to save them.
Here I have a 5″x5″ square of water and 4″x4″ square of sand. I used my Kraft Edgers scissors to create the waves along the edges of the water. (Can you guess the name of this scissor? Yep – wave!)
To secure each square I used the Tombow mono adhesive permanent tape. (It's my favorite refillable double-sided tape.)
I cut the letters using my Cricut Expression machine's Plantin Schoolbook cartridge. 'Happy' is 1 inch, 'Birthday' is 3/4 inch — both are the roly poly option. To glue these small items, I like to hold them with tweezers, then use a glue pen on the back side.
For really small items, I like the Sakura Quickie glue pen. These letters are a little bigger, so I used a Zig 2-way glue pen with 1/4-inch chisel tip. Both adhere almost instantly, making it easy to move onto the next part of the project.
Must read:  How To Know Which Craft Glue To Use When
For The Inside Of This Castle Card…
Inside the card, I wanted to use the blackout and shadow features on the Cricut Expressions for the sand castle on the Doodlecharms cartridge. The sandcastle cut itself is very cute and adds depth to the sand castle, so it could be used as a feature — similar to the Jolee's castle I used.
For the inside, I wanted none of those details, since I want to be able to write my own sentiment on a blank sand castle. The blackout feature is perfect for that — using more of my sand paper to make a 4-1/4″ blank castle. I used the water paper with the shadow feature to add that color to the inside. Then back to the Plantin Schoolbook cartridge for the inside words — all cut at 1 inch.
That way, I can write my "happy birthday you lucky dog" message on the sand castle. For a cute touch on the back of the card, I cut a 3/4″ sun from Doodlecharms to write "suz'09" — my signature for all my cards. (Of course, the year changes as necessary.)
How To Make A Matching Envelope
The envelope for this card can be made from a 12″x12″ sheet.
In this case, I used another sheet of 'sand' paper. Because the card size is exactly half the size of the sheet, it can be tricky to create the envelope using this technique.
The following photos demonstrate another way to make the custom envelope using the 12″x12″ sheet. It's like folding to wrap a present, cutting away the excess areas, then refolding to glue the envelope. The only tricky thing to watch for are the first 2 folds: the top fold which becomes the envelope
flap, and the 2nd fold which becomes the bottom part of the envelope. You have to make sure they will overlap properly — just like a regular envelope flap. Sometimes the folds touch nicely, but they won't overlap to make a seal. You can figure this out by simply folding without creasing to make sure the overlap will work, then fold the crease.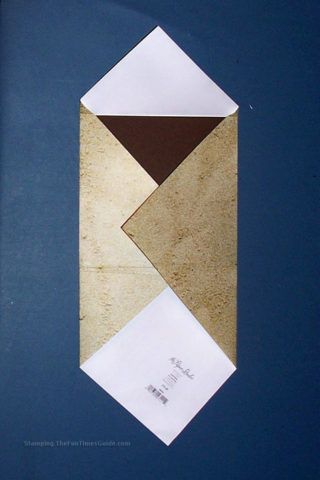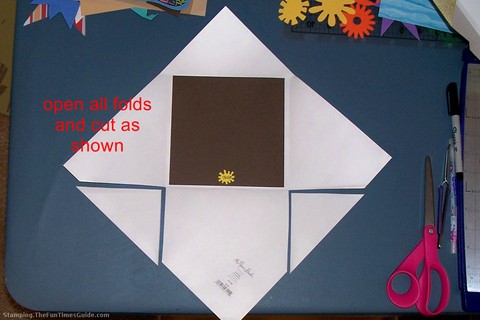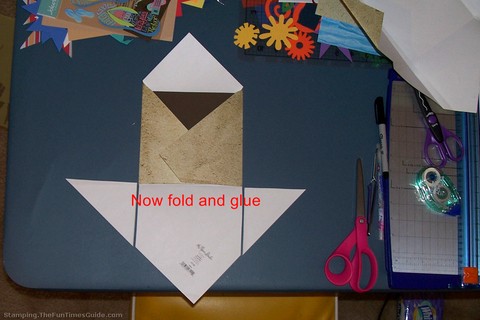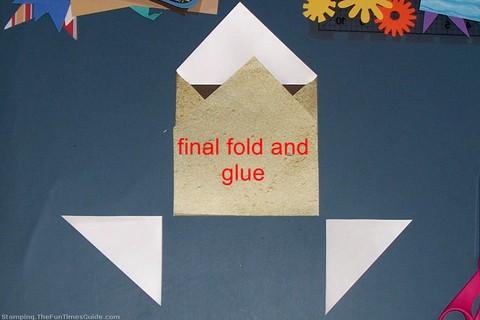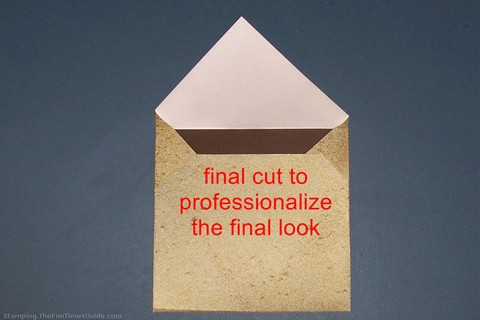 You can see in my envelope that it doesn't matter if the points of the paper are lined up perfectly, as long as it will securely seal the card and maintain any pattern the paper has. In this case, sand cares nothing about lines!
I hope you have fun making your very own sand castle card.
Other Fun Sand Castle Cards
I don't buy greeting cards or holiday cards anymore — I make my own! I also do some rubber stamping and scrapbooking. But mostly I enjoy creating handmade, one-of-a-kind cards. I've been an avid crafter for most of my adult life. My crafting addiction started with cross-stitching, then moved on to wearable art, projects with painted wood, fabric crafts, and then paper crafts — which has transformed primarily into card making. I also make the occasional wreath, snowglobe, and other holiday crafts.