This post may contain affiliate links. If you buy thru these links, we may earn a commission at no additional cost to you.
---
I made this card for my God-daughter Shelby for her ballet recital.
(She's 8.)
It would also make a cute Birthday card for a tiny dancer in your life.
How To Make This Card
I started with a white 8.5″ x 11″ cardstock paper and just folded it in half.
The pink paper with a white floral design is from a DCWV Stack value pack, and I used it for part of the card as well as the custom made envelope.
The top of the card front with her name was made on my Cricut Expression using the Plantin Schoolbook cartridge.
There is a feature called "end caps" that makes the tag with the hearts and you can type in any word or name.
I also used Plantin Schoolbook for the pink frame on the bottom of the card, using blue cardstock behind it and the name tag at the top.
If you don't have a Cricut, you could use stickers or print something on the computer.
Everything else on the front is from a sticker package that I got from Michaels or Hobby Lobby or another craft store (can't remember). They have adhesives on the back and are very easy to use.
The inside of the card uses the pink square leftover from the inside of the frame used on the front.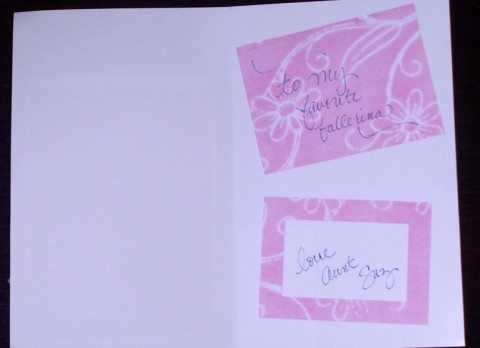 Have fun making this card and celebrate the dancer in your life!
I don't buy greeting cards or holiday cards anymore — I make my own! I also do some rubber stamping and scrapbooking. But mostly I enjoy creating handmade, one-of-a-kind cards. I've been an avid crafter for most of my adult life. My crafting addiction started with cross-stitching, then moved on to wearable art, projects with painted wood, fabric crafts, and then paper crafts — which has transformed primarily into card making. I also make the occasional wreath, snowglobe, and other holiday crafts.