This post may contain affiliate links. If you buy thru these links, we may earn a commission at no additional cost to you.
---
I found this piece of paper in my DCWV Paper Stack and decided to make a googly eyes card for my nephew's birthday.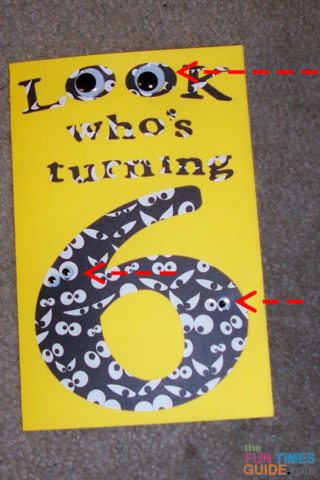 It was amazingly easy, and he loved it!
Here are the steps to make kids birthday cards with googly eyes yourself…
I wanted to make a big card, so I used a full sheet of yellow 8.5″ x 11″ cardstock paper folded in half.
I used my Cricut Expression (with the Plantin Schoolbook cartridge, on the Roly Poly setting) to cut a 6-inch number 6.
TIP: Be careful as you place the paper on the cutting mat — so the eyes will face the upright position on the 6.
Using the same paper I cut "LOOK who's turning" at 3/4″ and "Ryan" at 3″ (all on Roly Poly setting). I used double-sided tape to secure all these to the card.
Now for the fun part!
I have a collection of peel 'n stick googly eyes in my craft supplies.
I chose 1 large set and 2 small sets for the front of the card.
I had expected to be able to use any type of glue to secure them to the card, but Tombow double-sided tape and Elmer's Craft Bond glue didn't work. I had to bring out the heavy-duty glue: Bond 527 multipurpose cement. A tiny amount was sufficient to keep the eyes on.
Because the card is so large, I didn't even try to make an envelope from my largest paper — which is 12″x12″. I used the gift wrapping paper that I wrapped my present in to make a matching envelope. It looks great on the present!
If you're going to mail a large googly eye card like this one, you will probably need to pay extra postage in order to have the card hand cancelled, due to the thickness of the eyes.
This card is sure to bring a smile to any child. Have fun!
More Handmade Kids Birthday Cards
I don't buy greeting cards or holiday cards anymore — I make my own! I also do some rubber stamping and scrapbooking. But mostly I enjoy creating handmade, one-of-a-kind cards. I've been an avid crafter for most of my adult life. My crafting addiction started with cross-stitching, then moved on to wearable art, projects with painted wood, fabric crafts, and then paper crafts — which has transformed primarily into card making. I also make the occasional wreath, snowglobe, and other holiday crafts.