This post may contain affiliate links. If you buy thru these links, we may earn a commission at no additional cost to you.
---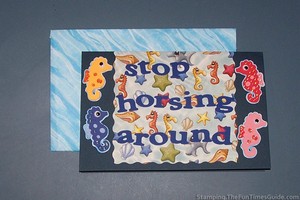 I've had a sheet of 8.5″ x 11″ under-the-sea paper for awhile, and it was just screaming out for seahorse accents.
The Doodlecharms cartridge for the Cricut Expression machine has this cute seahorse.
So I finally used the paper to make this seahorse card for my friend's Birthday.
How To Make This Card
For the base of the card, I used a piece of dark blue 8.5″ x 11″ cardstock.
I cut the under-the-sea paper into about 5×5″ square and attached it to the front as shown, overlapping the top onto the back.
I wanted room around the edges for the seahorses.
I cut the paper with my wave shaped Kraft scissors.
Each seahorse is 1.5″, also using the shadow feature. I chose colors from the sea paper and mixed them together with the shadows. Then I added crystal glitter glue to the seahorses, and 1/4″ googly eyes.
I use double-sided tape for most things, but I used liquid glue for the eyes, holding them down for a few moments while the glue sealed.
Must read:  How To Know Which Craft Glue To Use When
The inside of the card has a tan background for the 4″ sandcastle.
I used sand-colored paper for the castle, with a dark tan piece of paper cut in a shadow shape.
All the words were cut with the Plantin Schoolbook cartridge on the Cricut.
I almost always use the 'roly' option, so the letters are thicker than normal (thus, easier to hold and adhere). These letters are cut at 1″.
Even if you don't have the 'sea' paper like this, the seahorses and sandcastle would make cute cards all by themselves.
The Cricut also can cut charms, which would be fun for the kids to string into necklaces or mobiles. The options are endless… Have fun!
More Beach & Seahorse Cards & Crafts
I don't buy greeting cards or holiday cards anymore — I make my own! I also do some rubber stamping and scrapbooking. But mostly I enjoy creating handmade, one-of-a-kind cards. I've been an avid crafter for most of my adult life. My crafting addiction started with cross-stitching, then moved on to wearable art, projects with painted wood, fabric crafts, and then paper crafts — which has transformed primarily into card making. I also make the occasional wreath, snowglobe, and other holiday crafts.