This post may contain affiliate links. If you buy thru these links, we may earn a commission at no additional cost to you.
---
A diehard scrapbooker (Creative Memories 12×12 albums) for nearly 20 years, I gave up scrapbooking 2 years ago.
Why? Because it was so time-consuming… and so expensive to keep buying all of the embellishments & papers.
Yep, even after I'd invested hundreds (no, I mean thousands!) of dollars in supplies for my all-time favorite hobby, I gave it all up cold turkey one day.
That's why I was so thrilled to see there's a new computer scrapbooking program called My Memories Suite.
I've had my eye out for a program like this for some time now. But I've never been fond of the "typical" computer scrapbook programs out there. They're just so basic, and boring, and sterile — compared to "real"scrapbooks where the images and designs and embellishments just pop off the pages.
But finally, I think I've found a computer scrapbook program that I would use.
My Memories Suite by Polaroid is new. (It debuted in October of 2007.) The program was was created by StoryRock Electronic Publishing, "the technology provider of the leading digital scrapbooking program for home use, allowing consumers to easily integrate all their memories into professionally designed pages."
Here's a great 10-minute video describing the many features of My Memories Suite.
Why I Like This Program:
For $80 (which seems a tad high, but I'd pay it), you get quite a lot. Definitely more than enough to keep you scrapbooking digitally for a long time without running out of ideas.

 

 

You can take the easy route, and let the program auto-fill the pictures into the spaces for you. Or, you can pick & choose which photos you want where, how you want them cropped.

 

 

The end result of the pages that you create can be shared in these formats:


on your own computer

in a hard-bound (thin) book, soft-bound book, or spiral-bound book — with 13 pages printed front & back, plus cover

on a DVD — to watch on your TV or give as a gift.

 

 

Whether you print out your scrapbook pages or not, you can add 3D embellishments to the pages that appear to jump off the pages. Plus, if you're use this program simply for the templates, and you print out the pages to place in your own scrapbook, you can still add "real" embellishments to the pages!
My Memories Suite is capable of printing square-shaped albums as large as 12"x12" and landscape and portrait-shaped albums as large as 8.5"x11". The size of the paper in your printer (and what size the printer itself is capable of handling) will determine the maximum size that you are able to print your album page. Source
I really like how "interactive" it is. You can embed videos, and audio files. Think: friends singing Happy Birthday behind a birthday photo or a full-length song from your mp3 collection that plays while viewing your album.

 

No more papers, glues, tapes, messy workspaces, and storage problems. With this program, everything is stored and saved right on your computer. Simple and neat.

 

 

Their tech support seems decent (…according to others who've used it).
The cool thing about this is that if you decide you want to switch to another program later, you can use all the files for this program with other photo editing software. The files are all in .png & .jpg format. Other simple digiscrap programs like Creative Memories can only be used with their files. This one is a bit more versatile. And you can add your videos and music. —Meredith
View the complete user guide (.pdf)
What I Don't Like:
While the program comes with TONS of great templates which are used to create the background for your pages, I don't like the fact that additional templates are $5.99 (or less!) each. Similarly, additional theme packs are anywhere from $4.99 to $9.99. And additional embellishments are $1.99 to $3.99 apiece.
For the really creative folks who don't want any 2 pages to look alike, I can see this getting expensive in no time. Then again, I think it would take quite awhile for me to grow tired of their pre-loaded templates. And, if you're using this program primarily for making gifts, or recipe books, or other picture books for friends & relatives, then this program should have plenty of options to keep you satisfied.
The hardbound photo books are an attractive option to me. They would make such great gift ideas! But they're fairly expensive. Depending on whether you choose hard-bound, soft-bound, or spiral-bound, they range from $19.99 for the smallest (6×6) hardbound book, or $9.99 for soft- or spiral-bound of that same size… to $49.99 for the largest (12×12) hardbound book, or $29.99 for spiral-bound of that same size.
The Deal-Breaker For Me…
While you can clearly "choose from professionally designed templates or create your own with hundreds of backgrounds and embellishments.
" What I really want is to be able to upload my OWN backgrounds and my OWN embellishments… not just the ones that the creators of this program think are cool.
So the biggest question I have right now is…
Is the program customizable enough to allow you to upload your OWN backgrounds, embellishments, and templates — rather than just the ones that come with the program, or the ones you can buy later? (I think I know the answer.)
Meaning: Is there enough flexibility built into this digital scrapbooking program that you can "think outside the box" and create your own designs? I don't want to have to keep paying for new embellishments & backgrounds & layouts just like I used to pay for new papers, tools, and add-ons before!
In my opinion, any program worth its weight in gold should have some of this flexibility automatically built-in. I'm not crazy about software programs that are so proprietary, and as a result they force their own limitations upon you and don't allow you to be the truly creative person that you can be… on your own.
HELP!… Someone needs to create a digital scrapbooking program like this that is more Open Source… or at least more easily customizable for the end user.
Some Examples Of Flexible Programs
I can't tell you how many times I re-purpose software programs (like my all-time favorite Adobe Photoshop Album) and find ways to use them other than for what they were originally designed for. For example, I found a way to use that digital photo organization program to organize all of the scrapbook layouts I had saved off the computer (as pictures) and organize them my category, degree of difficulty of the design, and types of embellishments included.
I also use that same program to organize my recipe pictures, and of course, over 40,000 digital pictures that I've taken with my digital cameras through the years.
Now THAT's flexibility. And that's getting the most for your money from one program.
I can only hope that Polaroid's My Memories Suite is user-friendly enough that one can find similar ways to "think outside the box" and incorporate their own fun ideas that they may want to use over and over again.
If My Memories Suite doesn't have this sort of flexibility… that would be a deal-breaker for me.
Anyone own it yet? Can anyone shed some light on this?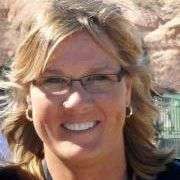 I'm a lifelong scrapbooker who's been documenting every moment of my life in pictures… for decades! I currently have 171,285 photos saved in 6,034 albums online (backed up in 3 different locations). I switched from old-school photo corners and thick paper binders to archival quality tape and Creative Memories albums after college. To me, there is absolutely nothing better than preserving your life's memories in photographs… and scrapbooks! Then I added rubber stamping and cardmaking to my craft talents… followed by candle making, paper crafts, and other DIY projects. When I'm not crafting, you'll find me at the corner of Good News & Fun Times as publisher of The Fun Times Guide (32 fun & helpful websites).