This post may contain affiliate links. If you buy thru these links, we may earn a commission at no additional cost to you.
---
I'm not sure how every holiday seems to sneak up on me, but here I am again, right before Valentine's day scrambling to get this year's Valentine cards put together!
So after scrounging around in my sticker box, I came up with 2 different versions of an easy but super cute Valentine card.
Here's how to make your own Valentine's Day cards in a hurry…
How To Make The Yellow Valentine Card
Starting with the heart made of little flowers with pale yellow centers, I decided to make one card with non-traditional Valentine colors.
The sticker came from a clearance section at Michael's several years ago (The Card Connection).
The sticker is about 2×2″, so my base card is white cardstock folded into a 4×4″ card.
Next, I added a touch of the pink with a 3.5″ x 3.5″ square, followed by a 3″ x 3″ yellow one, and finally the sticker on top.
The inside of the card has a 3.5″ x 3.5″ square of yellow.
I kept the sentiment very simple, scrolling "love you" in cursive writing with a silver sparkle pen.
How To Make The Pink Valentine Card
The pink heart card was made with cardstock in my scraps pile along with round silver rhinestone stickers from the Michael's dollar bin.
I cut a 3″ heart and embellished it with the rhinestones.
I started with the largest one in the center point of the heart and worked my way around to the bottom, gradually adding the smaller stones.
Instead of going from the center and around one side back to the beginning, I added the rhinestones to each side, one at a time. This way I could do my best to keep the rhinestones equally spaced on each side.
The inside has a similar handwritten sentiment. If you prefer, this size card is perfect for only your message to the recipient – no sentiment required!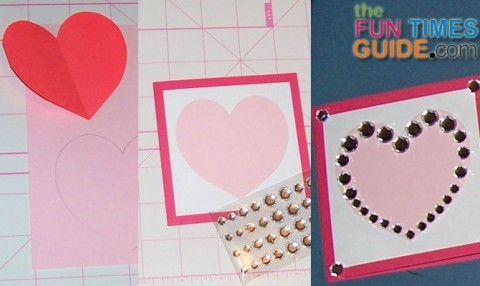 How To Make The Matching Envelopes
The envelope for the yellow card was made from an 8.5″ x 11″ sheet of the pale yellow cardstock, following this method.
I kept the envelope square, because I will not be mailing this card. (Remember that square cards require additional postage!)
For the envelope for the pink card, I found a complementary piece of 12″ x 12″ paper from my DCWV Spring Stack of paper.
I used a piece of pink cardstock 5″ x 7″ and secured it to (what will be the front of) the envelope.
I folded the rest of the envelope around it, pretending it was my card. This will allow me to use a single postage stamp, and it will add thickness to the part of the envelope that is longer than my card — which will protect it during mailing.
Because of the rhinestones, I will have to mark the envelope "Please Hand Cancel" since it won't fit through their machines.
When you make your own Valentines Day cards, you can use any kind of sticker you have on hand to create the card, or you can purchase something special and meaningful for your card. Your hand-written message to your loved one inside will be the part that he or she never forgets!
More DIY Valentine's Day Card Ideas
I don't buy greeting cards or holiday cards anymore — I make my own! I also do some rubber stamping and scrapbooking. But mostly I enjoy creating handmade, one-of-a-kind cards. I've been an avid crafter for most of my adult life. My crafting addiction started with cross-stitching, then moved on to wearable art, projects with painted wood, fabric crafts, and then paper crafts — which has transformed primarily into card making. I also make the occasional wreath, snowglobe, and other holiday crafts.